Austin, Texas — As Billy Pittman cruised into the end zone with a 75-yard touchdown pass, Vince Young struck a pose. Hands on hips and chest out, Superman style, the Texas quarterback soaked in the roar of an adoring crowd.
Less than two minutes into the second half, another Longhorn landslide was in the making.
Young threw for two touchdowns and ran for another, and No. 2 Texas handed the 10th-ranked Red Raiders their first loss of the season Saturday, a 52-17 victory that should do nothing but help the Longhorns' run for the Rose Bowl.
Trying to start 7-0 for the first time since 1976 and move into national-title contention, the high-scoring Red Raiders (6-1, 3-1) couldn't keep up with the Longhorns (7-0, 4-0).
"Now I think this team definitely deserves to be No. 2 in the country," Texas coach Mack Brown said after Texas' 14th straight victory.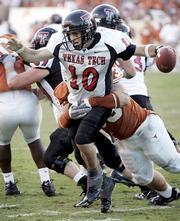 Cody Hodges, coming off a 643-yard passing day against Kansas State, did his best to keep the Red Raiders from getting blown off the field. The fifth-year senior went 42-for-64 for 369 yards and two touchdown passes.
"When you play a team like Texas you have to eliminate ... mental mistakes," Hodges said. "And we shot ourselves in the foot early on offense."
Young threw two early interceptions, matching a career high, but finished 12-for-22 for 239 yards. More comfortable in the pocket these days, the 235-pound speedster ran just seven times for 45 yards and used that smooth stride on a 10-yard TD run to make it 45-17 in the third quarter.
And with Oklahoma State, Baylor and Kansas University up next for the Longhorns, it might be awhile before Texas faces another challenge. Maybe in the season finale at Texas A&M;? Or maybe Jan. 4 in Pasadena?
"To be a team that has a chance to win all their games you can't think that way," Brown said.
Copyright 2018 The Associated Press. All rights reserved. This material may not be published, broadcast, rewritten or redistributed. We strive to uphold our values for every story published.