Pittsburgh — Steelers quarterback Ben Roethlisberger not only doesn't have a serious knee injury, as the team initially feared Monday night in San Diego, he could play again as early as Sunday.
After an eventful 24 hours in which the Steelers rallied to win, 24-22, after blowing a 14-point lead, lost their star quarterback to what looked to be a frightful injury, and flew all night, coach Bill Cowher was more relieved than happy. And he was very happy.
Roethlisberger sustained a hyperextended left knee and a bone bruise after being struck by Chargers defensive end Luis Castillo's helmet with 1:05 remaining in the game - but nothing else. No ligament tears, no tendon or cartilage damage, all of which the Steelers feared after Roethlisberger was removed from the field by a cart.
"I think we'll all have a deep sigh of relief in regards to the diagnosis," Cowher said Tuesday after Roethlisberger had an MRI exam not long after getting off the plane from California. "I guess the dire situation we thought we had coming in here this morning doesn't appear to be that right now."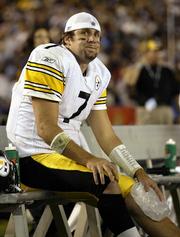 When they left the field Monday night, some Steelers players were contemplating what it would be like if they needed to play weeks, if not months, without the quarterback who is 16-1 as an NFL starter.
Despite the much better than expected medical news, it seems unlikely the Steelers (3-1) would rush back Roethlisberger to play Sunday against Jacksonville (3-2), especially after a short week of preparation.
For now, Cowher said, "Charlie Batch is the starter by default until I see more. ... We'll see how the week progresses."
Batch, the Lions' starter from 1998 to 2001, has thrown only eight passes in four seasons since signing with his hometown Steelers, and the team debated whether to keep him at the end of training camp.
Also undecided is whether running back Jerome Bettis or Willie Parker will start against the Jaguars. Parker has been held to 81 yards in two games since running for more than 100 yards in each of the first two. He was replaced for much of the second half Monday by Bettis.
Copyright 2018 The Associated Press. All rights reserved. This material may not be published, broadcast, rewritten or redistributed. We strive to uphold our values for every story published.