It was a special night for more than one reason Tuesday evening at Seabury Academy.
Not only did the Seahawks go 2-1 in a volleyball quadrangular to assure them a record over .500 in the regular season, but three Seahawks played in the last home match of their careers.
Seabury used a large Senior Night crowd to help it defeat Elwood and Heritage, but the Seahawks lost their middle match to Kansas City Sumner. In the process, Seabury helped improve its seeding for the upcoming regional.
"In our regional, I think that most of the teams will have between a .500 and .600 winning percentage," Seabury coach Craig Friedrichsen said. "We could end up anywhere from the number-two seed to the number-six seed.
"I would have liked for us to have three or four more wins to solidify us as the number two or three seed, but it's tough. You just have to play as good as you can play and see what happens."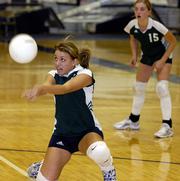 Playing as good as they can play is exactly what they did Tuesday. In their opening match, they swept Elwood, 25-19, 25-17. Freshman Melissa Burch led the way with six kills for the Seahawks. In game one, they trailed the entire game until they tied it at 16. From there, Seabury went on a 9-3 run to finish the game.
The Seahawks, who were swept by Sumner earlier this season, lost game one but were able to force a game three thanks to a strong performance from junior Molly Thurman. Her block gave the Seahawks an 18-9 lead in game two, and they never looked back. Seabury lost game three, 25-14.
"I thought we played well against them, but in the third game they got that streak going, and we just couldn't break it," Friedrichsen said. "They are a 5A team. Some people ask me why we even play them, but in regionals next week we are going to play a lot of teams that hit like they do. It will help us be ready for them."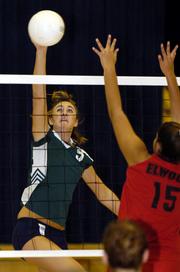 In the seniors' last home match of the season, they didn't disappoint, sweeping Heritage Christian, 25-17, 25-16. Fittingly, it was a tip by senior Laura Hoffmann that ended the game.
"I have been very fortunate to play here the last three years," Hoffmann said of her high school volleyball career. "I wish we would have beaten Sumner, but I think we played really well together overall."
On the night, Thurman had 16 kills and five solo blocks. Burch added 10 kills and three blocks.
But the team's best individual performance came from senior Lindsey Ahlen. She recorded 18 kills on the night and added a block. A third senior, Livia Shi, also played and recorded a kill in her last game in front of the home fans.
Seabury will travel Tuesday to Burlingame for the regional tournament.
Copyright 2018 The Lawrence Journal-World. All rights reserved. This material may not be published, broadcast, rewritten or redistributed. We strive to uphold our values for every story published.