The allotted 40 minutes was not enough to determine a winner Saturday when the Tigers squared off against the White Panthers at Youth Sports Inc.
The Tigers were able to score two late goals playing the White Panthers to a 5-5 tie.
After the early scoring from Sky Carey, the White Panthers were able to ride a big lead for much of the game. Carey recorded the first goal of the game after recovering a cleared pass and outran the defense for a 1-0 lead. Carey would strike minutes later off a feed from teammate Alex Bowen for the second goal of the game. Luke Miller added to the cause, burying a goal in a sea of Tiger defenders.
However, the Tigers responded with their own give-and-go from Sam Allen to Seonna Kelly, putting the Tigers on the board. Cameron Stussie was able to stiffen the Tiger defense and slowed down the White Panther attack long enough for his offense to respond. Allen would later tighten things up for the Tigers, connecting on an open goal and pulling the Tigers within one.
Later in the second half, Pride Leggins was able to connect on the game-tying goal for the Tigers.
"We were able to have a lot of fun, and they did a good job of hustling and catching up to the White Panthers," Tiger head coach Jon Stewart said.
It was Leggins who secured the tie by chasing down a streaking Cameron Edgecomb, who would have given the White Panthers the game-winning goal as time expired.
The White Panther defense was led by Edgecomb, who used his speed and size to break up the Tiger attack and dribble the ball into the offensive side. Nicholas Brown was able to position himself defensively to break up several goal-scoring opportunities for the Tigers.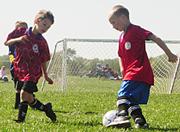 Allie Fischer contributed defensively for the Tigers, holding the White Panther attack, forcefully clearing the ball and keeping the pressure away from the defense to leave the game deadlocked at 5-5.
"We've had a huge improvement from game one, when they all would just attack the ball, to game four, where they are positioning and passing the ball," Stewart said.
Copyright 2018 The Lawrence Journal-World. All rights reserved. This material may not be published, broadcast, rewritten or redistributed. We strive to uphold our values for every story published.