Despite cold fingers and feet, the Soccer Stars and Firehawks of the 6U soccer division played an excellent, even-matched game that came down to the last second.
After battling back and forth all game, the Soccer Stars capitalized on a break away, scoring the game-winning goal as time expired. The Soccer Stars defeated the Firehawks 7-6 on Saturday at Youth Sport Inc.
"All the kids played really well this morning," Firehawk head coach Dennis Odgers said.
The game started with a bang as Soccer Star forward Jared Lieberman jump-started the offense with a goal in the opening minute. Brittany Swearingen and Liam Van Hoesgon teamed up with Lieberman to put pressure on the Dragon defense. While Lieberman and Swearingen attacked offensively, Van Hoesgon lurked, jumping on any loose ball and coming up with several strong saves in goal.
The Firehawks were able to regain control of the game thanks to the strong team play of Kate Odgers and Brayden Williams. Both Odgers and Williams pestered the Soccer Stars, forcing turnovers and then using their speed to attack the goal. On one occasion Odgers stole the ball and found a streaking Williams open for a goal.
Odgers wowed the crowd with her quick feet, pouncing on a loose ball and sending a sliding left-footed kick to the back of the goal. Even the opposing team was impressed with her play.
"Can she (Odgers) transfer teams? She is excellent," Soccer Star head coach Serge-Alain Wandji said.
Firehawk defender Bryce Hadl hovered around the ball all game. If he wasn't dribbling with the ball, the relentless Hadl would position himself defensively waiting to attack the Soccer Stars.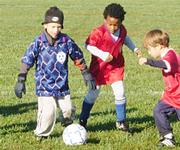 An early second-half goal by Firehawk Maddie Clark was not enough to detour a determined Soccer Star team. Soccer Star forward Emaad Gerami quickly responded to Clark's goal, bruising his way through the Firehawk defense and blasting the ball in goal for the Soccer Stars. Soccer Star Lyria Gansop somehow found an angle as she snuck the ball past two Firehawk defenders to record her first goal.
With the score deadlocked at six and time slowly slipping away, Gansop dug in and played her best defense of the day, coming up with the steal and rushng downfield. Gansop was able to keep control of the ball and sent a rocket toward the goal, sending the Soccer Stars home with the win.
Copyright 2018 The Lawrence Journal-World. All rights reserved. This material may not be published, broadcast, rewritten or redistributed. We strive to uphold our values for every story published.