Kansas City, Mo. — First lady Laura Bush stopped in the heartland Tuesday to visit with and praise a program that helps fathers be more involved in their children's lives.
"It's a fact of life in our country and we know that many, many children grow up in a home without a father," Bush said after a round-table discussion with leaders of the National Center for Fathering, which is based in Kansas City. "We want to call attention to it because we know how important this is, and we want our children - all children - to have the benefits of a loving relationship with adults, their mother and their father, or a father figure."
The private nonprofit group provides training and support for fathers to become mentors for their kids, encouraging them to read to their children daily and get involved in their progress in school.
"We have yet to fully account for the impact a father's involvement has in the formation of children," said Ken Canfield, who founded the center 15 years ago and serves as its president.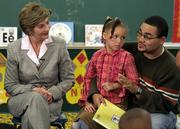 Reynard Zweifel told Bush that three years after working with the center, the amount of time he spends each day reading with his 5-year-old daughter, Amaya, has grown from five minutes to close to an hour.
"It's a great time," he said, Amaya balanced on his knee. "It helps my daughter feel more confident about herself."
The first lady also watched as Sarah Colver, 14, read an essay about her father, Louie, which won the center's local essay contest. Sarah said her father has raised her as a single parent since she was 3 and has regularly put off buying himself new clothes or a new car to make sure she has what she needs.
"My daddy is strong enough to not only be a good father but a heck of a good mother and sacrifices everything for me," she said.
Since March, Bush has traveled around the country promoting her Helping America's Youth initiative, highlighting programs that battle poverty, substance abuse, gangs and other obstacles facing children. She said the White House will convene a seminar at the end of the month to review what she has found.
Copyright 2018 The Associated Press. All rights reserved. This material may not be published, broadcast, rewritten or redistributed. We strive to uphold our values for every story published.