Chicago — The Los Angeles Angels will have plenty of time to rest. Right now, they're too busy winning.
Paul Byrd pitched effectively in a pinch, Garret Anderson homered, and the travel-weary Angels edged the Chicago White Sox, 3-2, Tuesday night in the opener of the AL championship series.
The Angels were supposed to be more than a little jet-lagged. Sunday night, they were on the East Coast, playing the Yankees. Monday night, they were back on the West Coast, beating New York. Now, they're in the Midwest, with no off-day until Thursday.
"We've had a couple of red-eye flights, and guys haven't really complained. I don't know if we're delirious, or what," Byrd said.
Seeking their first World Series berth in 46 years and first championship since 1917, the White Sox got another outstanding outing from Jose Contreras but couldn't manage much offense.
The Cuban right-hander worked into the ninth inning but lost for the first time since Aug. 15, ending his nine-start winning streak.
Chicago had won eight games in a row going back to the regular season but fell short against a Los Angeles team playing in its third time zone in three nights.
"I said before the game, I don't believe they're going to be tired," White Sox manager Ozzie Guillen said. "They showed it."
Recovering from a throat infection and fever, Jarrod Washburn is slated to pitch Game 2 of the best-of-seven series for the Angels tonight against All-Star starter Mark Buehrle.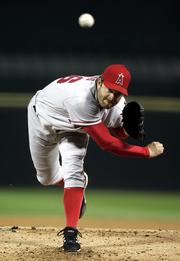 Scot Shields retired slugger Paul Konerko with two on to end the eighth. Francisco Rodriguez worked around third baseman Chone Figgins' error to begin the bottom of the ninth and struck out Joe Crede to close it out. The Angels won Game 1 for the first time in six postseason series under manager Mike Scioscia.
The frequent flyers won despite taking a redeye and not arriving at their Chicago hotel until around 6:30 a.m. No matter, they were plenty fresh for the ALCS opener, thanks to Byrd and his bullpen.
The 34-year-old right-hander walked only 28 batters all season and his throwback delivery, with arms rocking back behind him like a right-handed Whitey Ford, belongs in a flickering old cut of black-and-white film footage.
A 12-game winner during the regular season, Byrd got the Game 1 start because he was the only option left. The first-round series took a toll on Los Angeles' pitching staff, and ace Bartolo Colon was left off the ALCS roster because of a shoulder injury.
Working on only three days' rest after a short outing in Game 3 against the Yankees, Byrd slipped on the mound while throwing a first-inning pitch to leadoff batter Scott Podsednik, then held Chicago in check for six-plus innings to earn his first postseason victory.
He departed after hitting Aaron Rowand with a pitch to begin the seventh, but Shields got six outs to set up Rodriguez for his third save of the postseason.
"I can't say enough about our bullpen," said Byrd, who downplayed the short rest. "I'm a control pitcher, I don't rely on velocity. It wasn't a big deal to me. I got away with a few pitches."
The White Sox attempted all sorts of tricks - No. 3 hitter Jermaine Dye tried to bunt leading off the sixth but popped up to Byrd. Catcher A.J. Pierzynski tried to steal second in the seventh, but was thrown out.
"Obviously, we're disappointed. We had a chance to play better. We didn't do what we did all year long," Guillen said.
Fireworks boomed before the game and video boards just below the upper deck flashed: "This is White Sox playoff country."
One sign in the stands read: "8 in a row. 8 to go. 88 yrs in the making."
Playing before a revved-up crowd of 40,659, the well-rested White Sox had been waiting at home since Saturday after sweeping defending champion Boston in the first round. With their pitching rotation lined up perfectly, they were supposed to have an edge early in this series, but the AL Central champs were the ones who looked weary in the early going.
Similar styles carried the Angels and White Sox this far: Both rely on solid starting pitching and a deep bullpen, and they like to manufacture runs with bunts and aggressive baserunning.
That doesn't mean they can't play long ball, though.
Anderson led off the second inning against Contreras with his third homer of the postseason - he had a team-best seven RBIs in the first round.
"I think that was the only legit ball they hit off him," Guillen said. "He did a tremendous job."
Then the Angels went to what they do best. Adam Kennedy's hit-and-run single was followed by Figgins' sacrifice bunt, putting runners at second and third in the third.
Orlando Cabrera's slow bouncer scored Steve Finley, and third baseman Crede hesitated before throwing to first, allowing Cabrera to reach on an infield single.
"This game, with its twists and turns, could have gone either way for the whole nine innings," Scioscia said. "It could have turned on a dime."
Vladimir Guerrero bounced back to the mound, and Contreras tried for a double play instead of going home to get Kennedy. Cabrera's high slide bothered second baseman Tadahito Iguchi, who overthrew first base, and Los Angeles had a 3-0 lead on Guerrero's first RBI of the playoffs.
"That's the way people should be playing baseball, play hard," Guillen said. "I like those kinds of games."
Crede homered in the bottom half, and Pierzynski concluded a feisty at-bat with a two-out RBI single in the fourth, cutting it to 3-2.
Notes: Guillen got the loudest cheer during pregame introductions and waved his cap to the crowd. ... Billy Pierce, a pitcher on the 1959 "Go-Go Sox" team that lost to the Los Angeles Dodgers in the World Series, threw out the first pitch to a warm ovation. ... The Angels also won the last four meetings of the regular season, including a three-game sweep in Chicago from Sept. 9-11.
Copyright 2018 The Associated Press. All rights reserved. This material may not be published, broadcast, rewritten or redistributed. We strive to uphold our values for every story published.