The Cheetahs used their cat-like quick speed to come out firing early Saturday and never looked back.
The 6U Cheetahs beat the Tigers 7-4 on Saturday at Youth Sports Inc.
Cheetahs attacker Maya Hodison played like her mascot from the start of the game. Hodison escaped defenders with quick moves and nifty dribbling skills to score the first two goals of the game.
After being tangled up in the goal's net during the pre-game warm-ups, Cheetahs forward Jim Morton showed no signs of being tied down during the game. Morton helped build the Cheetahs' lead by bursting out of a six-player pack at midfield and placing a ball into the back of the net, instead of himself.
Both teams were able to string several passes together to set up breakaways and scoring chances and seemed to be in midseason form.
Tigers attacker Luke Campbell ended their scoring drought on a breakaway and finished the ball in the side of the net, making the score 3-1.
The Cheetahs bounced back after the Tigers' goal, with midfielder Dean Stuart chipping in a loose ball from 15 feet outside the goal.
Campbell then showed his fighting spirit by trying to get his team back into the game. Campbell scored his second goal of the game, dribbling the ball from one end of the field to the other before shooting.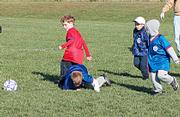 However, the Cheetahs' teamwork seemed to overmatch any individual efforts from the Tigers. The Cheetahs rattled off three consecutive goals to close out the third quarter. Morton netted his second goal of the game, followed by a goal from midfielder Saraya Windibiziri and Hodison's third goal of the game, which was also the seventh and final goal for the Cheetahs.
Campbell finished the game with a third goal of his own, but his efforts proved to be too little in the final outcome of the game. The Tigers added one more goal as time expired, but was too late and the Cheetahs held on to win the game with a final score of 7-4.
Copyright 2017 The Lawrence Journal-World. All rights reserved. This material may not be published, broadcast, rewritten or redistributed. We strive to uphold our values for every story published.