Atlanta — Josh Smith showed off his leaping ability last year by winning the NBA slam-dunk contest, but some still may doubt he can jump so high without help.
In a controversial call, official Phil Robinson said Smith grabbed the rim to make an offensive rebound with 7.2 seconds left, giving Portland the ball for Darius Miles' winning shot in a 77-75 victory over Atlanta on Sunday.
Miles' bank shot over Zaza Pachulia with 1.3 seconds left gave Portland the victory, ending the Hawks' two-game winning streak, but everybody was talking about the ruling on Smith's rebound.
Hawks coach Mike Woodson called it "bogus."
"The guy never even hung on the rim," Woodson said. "I went back and watched it on the tape. It was a bad call."
Smith said he asked Robinson for a clarification.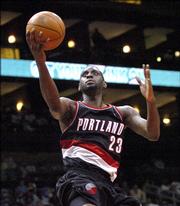 "They said I grabbed the rim and pulled up to get the rebound," Smith said. "I was shocked."
Added Atlanta's Al Harrington: "I was standing there. I didn't see him grab the rim. I don't know what (Robinson) saw there. You've got to love our refs, man. They do a great job night in and night out."
Hawks' rookie Salim Stoudamire missed a last-second jumper following Miles' basket.
Zach Randolph led Portland with 24 points, making 12 of 15 shots from the field. Randolph missed two free throws with 1:06 left and the Blazers leading by two, giving the Hawks an opening. Joe Johnson's spinning drive tied it at 75 with 49 seconds left.
Following a miss by Miles, Johnson missed a baseline jumper. Smith soared above the rim to grab the rebound, but Robinson's ruling gave Portland possession. TV replays indicated Smith did not touch the rim.
Portland coach Nate McMillan said even if the officials had not ruled Smith grabbed the rim, the possession should have changed on a foul.
"There was a foul, first of all, because (Pachulia) went over the back," McMillan said. "Grabbing the net was the second call that was there. We had a guy in position. I think Pachulia went over the back. I thought there were two calls that might be made."
The Blazers, who snapped a two-game losing streak, are 2-0 against the Hawks in two last-second victories. Portland beat Atlanta 94-93 on Nov. 5 on Randolph's free throw with 0.2 seconds left. The Hawks opened the season with nine straight losses.
Pacers 97, Clippers 92
Los Angeles - Ron Artest scored 22 points, and Jermaine O'Neal had 16 points and 13 rebounds.
Elton Brand had 22 points and nine rebounds for the Clippers, who have lost consecutive games for the first time this season after a franchise-best 9-2 start and were beaten at home for the first time.
Chris Kaman finished with 18 points and 12 rebounds for Los Angeles.
Nets 102, Lakers 96, OT
Los Angeles - Jason Kidd scored six of his season-high 35 points in overtime, and the Nets won despite Kobe Bryant's 46 points - an NBA single-game high this season.
A basket by Jacque Vaughn, a Kansas University product, with 3:39 remaining in the overtime gave the Nets a 95-93 lead, and they were on top the rest of the way. New Jersey never trailed in snapping its three-game losing streak.
Copyright 2018 The Associated Press. All rights reserved. This material may not be published, broadcast, rewritten or redistributed. We strive to uphold our values for every story published.