Denver — The trip home after Thanksgiving was slow going for many travelers Sunday as blizzard conditions wreaked havoc from Colorado to the Midwest.
The major airports reported few delays outside the central part of the country, where a storm system brought blowing snow and thunderstorms.
The biggest trouble spot for travelers stretched from Colorado through Kansas, Nebraska and the Dakotas where blizzard conditions and freezing rain sent cars spinning off roads and forced a shutdown of several highways, including a large stretch of eastbound Interstate 70, the major east-west corridor, from Denver to the Kansas line.
Freezing rain turned roads to ice rinks for miles around Fargo, N.D.
"It is bumper-to-bumper," North Dakota Transportation Department district supervisor Bruce Nord said. "It's just unbelievable, the traffic. When one goes in the ditch, it takes three or four people along."
In Colorado, Denver International Airport appeared to have missed the worst of the storm, but to the east, winds were creating whiteout conditions.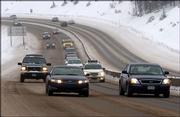 As many as 25 cars were involved in an accident 50 miles east of Limon as visibility in the blowing snow dropped to nearly zero.
As the area's hotels quickly filled up with travelers, state transportation officials also shut down eastbound traffic at E-470 on the outskirts of Denver to prevent travelers from becoming stranded with no place to stay.
Copyright 2018 The Associated Press. All rights reserved. This material may not be published, broadcast, rewritten or redistributed. We strive to uphold our values for every story published.