STANFORD, CALIF. — Notre Dame needed every last yard and every defensive stop to become eligible for its first Bowl Championship Series berth in five years.
Darius Walker ran six yards for the winning touchdown with 55 seconds remaining and took a direct snap to run in for the two-point conversion, and the sixth-ranked Fighting Irish became all but assured of playing in one the four marquee bowl games with a 38-31 victory over Stanford on Saturday night.
Brady Quinn passed for 432 yards and three touchdowns, but also threw two interceptions, and Notre Dame survived a wild final few minutes for its fifth straight victory since a 34-31 loss to No. 1 USC on Oct. 15. Walker ran for 191 yards on 37 carries.
The Irish (9-2) won seven of their final eight games under first-year coach Charlie Weis, who made a key decision to switch kickers in the fourth quarter, then gave his team a major scare when he switched back to starter D.J. Fitzpatrick.
Fitzpatrick missed a 29-yard field goal wide-left with 2:15 to play after his earlier extra point missed off the left upright, and then his 42-yard field goal attempt in Notre Dame's next possession went wide-left.
Stanford took advantage.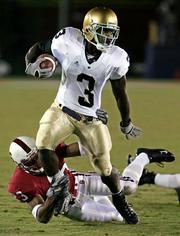 The Cardinal, who will miss a postseason trip in coach Walt Harris' first year, went ahead 31-30 with 1:46 left after backup quarterback T.C. Ostrander's four-yard touchdown pass to Matt Traverso. Ostrander set up the score with a 76-yard completion to Mark Bradford.
No. 5 Virginia Tech 30, North Carolina 3
Blacksburg, Va. - Cedric Humes ran for a career-high 134 yards and two touchdowns, and the Hokies advanced to the Atlantic Coast Conference championship game with a victory.
Virginia Tech (10-1, 7-1) led only 6-3 at halftime, but Humes scored on runs of one and three yards and Branden Ore added a TD run - all in the third quarter.
The loss deprived the Tar Heels (5-6, 4-4) of becoming the ninth conference team to have six wins needed for a bowl berth.
No. 10 Miami 25, Virginia 17
Miami - Kyle Wright threw for 248 yards and the go-ahead score, then scampered a career-long 31 yards to set up the final touchdown as the Hurricanes beat the Cavaliers.
Wright completed 23 of 30 passes, including a 17-yard touchdown to Sinorice Moss that put the Hurricanes (9-2, 6-2 ACC) ahead for good.
Deyon Williams had a pair of touchdown catches for Virginia (6-5, 3-5).
No. 13 Georgia 14, No. 20 Georgia Tech 7
Atlanta - D.J. Shockley threw a 19-yard touchdown pass to Bryan McClendon with 3:18 remaining, and Tim Jennings clinched the victory with an interception at the goal line, leading the Bulldogs over the Yellow Jackets.
Both teams scored in the first quarter, then slogged it out much of the night in a field-position battle. Finally, Georgia Tech (7-4) cracked.
Georgia (9-2) will return to Atlanta on Saturday to face LSU in the Southeastern Conference title game.
Nevada 38, No. 16 Fresno State 35
Reno, Nev. - Robert Hubbard ran for 146 yards and three touchdowns, and Jeff Rowe hit Nichiren Flowers with a 12-yard scoring pass with 1:29 remaining as the Wolf Pack upset the Bulldogs to claim at least a share of the Western Athletic Conference title.
Paul Pinegar completed 30 of 45 passes for 405 yards and four touchdowns a week after Fresno State put a scare into top-ranked USC before falling, 50-42.
Nevada (8-3, 7-1) got a pair of turnovers in the final seven minutes to overcome 17 straight points in the second half by Fresno State (8-3, 6-1).
No. 17 Louisville 41, Syracuse 17
Louisville, Ky. - Montrell Jones caught six passes for a career-high 118 yards and two touchdowns, and Brandon Johnson had a key third-quarter interception to help the Cardinals overcome a sloppy performance and win a school-record 12th straight home game.
Louisville (8-2, 4-2 Big East) held off a late rally by the Orange (1-10, 0-7), who finished with the first 10-loss season in the program's 110-year history.
No. 19 Florida 34, No. 23 Florida State 7
Gainesville, Fla. - Chris Leak threw two touchdown passes, the defense created four turnovers, and the Gators overwhelmed their in-state rival at The Swamp.
Florida (8-3) finished undefeated at home for the first time since 2000 and knocked off its top three rivals - Tennessee, Georgia and Florida State - in the same season for the first time since 1996.
Florida State (7-4) may have reached a new low under longtime coach Bobby Bowden, losing three in a row for the first time since 1983.
Copyright 2018 The Associated Press. All rights reserved. This material may not be published, broadcast, rewritten or redistributed. We strive to uphold our values for every story published.