Crawford, Texas — A repeat of last summer's dueling rallies against the war and in support of President Bush drew much smaller crowds to Crawford on a cool, rainy Saturday.
About a dozen Bush supporters stood downtown with signs, one reading: "Real America won't wimp out." Throughout the morning, shoppers and a few tourists leaving souvenir stores stopped in the tent to voice their support for the president.
Closer to the Bush ranch, where the president celebrated Thanksgiving with his family, about 200 people rallied around Cindy Sheehan in a continuation of the California woman's summer protest against the war that claimed her son.
They used the same private lot, near one of two Secret Service checkpoints, where Sheehan held part of the 26-day August vigil that reinvigorated the anti-war movement and made Sheehan a national figure.
About 20 demonstrators also stood in a ditch beside the other checkpoint about a mile away, avoiding violating recently passed roadside camping bans that led to 12 arrests a few days ago.
"We have both of his exits covered," said Sheehan, whose son Casey died in Iraq last year and who called on her supporters to resume the protest this week to coincide with Bush's ranch visit.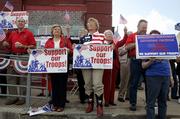 "We are exercising our patriotic duty to dissent," she said.
The scene Saturday was far different from the last weekend in August, though, when several thousand Bush supporters and war protesters held separate rallies in the one-stoplight town of 700 residents. Both sides attributed Saturday's low turnout to the holiday weekend and rainy weather.
The day's biggest demonstration in Crawford turned out to be one involving about 500 Americans from Ethiopia, which has experienced political unrest and violence since the disputed May election. Demonstrators called on Bush to pressure the Ethiopian government to release detained opposition party leaders, who accused authorities of rigging the polls that returned the ruling party to power.
In his weekly radio address Saturday, Bush mourned the growing number of fallen troops in the war with Iraq but vowed to keep fighting for the cause they died for.
The president thanked U.S. service members and military families "who are making great sacrifices to advance freedom's cause."
Sheehan's group still planned to release nearly 300 blue and white balloons with anti-war messages and pictures and names of fallen soldiers.
Copyright 2018 The Associated Press. All rights reserved. This material may not be published, broadcast, rewritten or redistributed. We strive to uphold our values for every story published.