When Lisa Wilkinson went Christmas shopping Saturday afternoon, she didn't head off to the nearest "big box" discount store.
Instead she stopped at the Ecumenical Christian Ministries, 1204 Oread Ave., to shop at this year's Lawrence Fair Trade Holiday Market.
"My sister and my mom came with me yesterday to purvey the situation," said Wilkinson, of Lawrence. "I'm looking at jewelry."
In particular, Wilkinson took some time to look at jewelry made by someone in Peru before picking out a couple of items to buy. Wilkinson said she was at the market because it is a Fair Trade event.
About 25 artisans and producers sent their products to be sold on consignment at the Fair Trade market. The market has been held annually for more than a dozen years.
"We've really expanded this year," said Mary Kuhn, of Lawrence, one of 13 people who make up the local Fair Trade organization. Last year's event featured 15 artisans and producers, she said.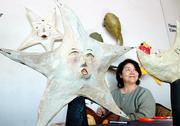 Fair Trade organizations work to promote the sales of products of farmers and craftsmen from around the world. It gives them a market they might not ordinarily have competing against big corporate businesses. The organization also promotes living wages, fair prices and financial and technical assistance for the producers.
Customers at this year's Fair Trade Market will find arts and crafts, clothing and small food packets from countries that include Guatemala, Bangladesh, India and Cameroon, to mention a few. There also were some local vendors who imported items from other countries.
Holiday shoppers in Lawrence also had another alternative to mainstream stores Saturday. Hundreds of people streamed in and out of the Lawrence Arts Center to shop at the annual Bizarre Bazaar arts and crafts show. While musicians played in the background, shoppers studied tables filled with homemade jewelry, specially painted glass ornaments, tie-dyed shirts and quilts. Organizers said there were 112 vendors at this year's event.
While the Bizarre Bazaar was a one-day event, the Fair Trade Market began Friday and will continue daily from 1 p.m. to 8 p.m. through Thursday.
Copyright 2018 The Lawrence Journal-World. All rights reserved. This material may not be published, broadcast, rewritten or redistributed. We strive to uphold our values for every story published.