When shoppers lined up outside stores this morning - the traditional start of the holiday shopping season - it's a good bet they weren't all there in the spirit of giving. For many, it's a day for getting a once-a-year deal on a television set, digital camera or other item on their personal wish list.
A nationwide survey found that 24.7 percent of consumers planning to shop on Black Friday would be buying big-ticket items for themselves.
"With one in four people buying something nice for themselves, that's a pretty big number," said C. Britt Beemer, whose firm, America's Research Group, polled shoppers about their plans.
And it appears to be a growing trend, Beemer said. In the past, when he's asked that question, the number of shoppers planning to buy for themselves on Black Friday usually hovered around 16 percent.
Another survey, by the National Retail Federation, found that more than half of all shoppers - 52.9 percent - plan to take advantage of sales to buy for themselves sometime during the holiday season.
Indeed, Black Friday's evolution into "Buy It for Me" Friday is part of a larger holiday trend that retailers and Wall Street analysts have dubbed "self-purchase."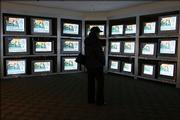 Some of the self-purchasers, like many of the shoppers in line for the new Xbox video game console Tuesday, are consumers who can't wait until Dec. 25 to find the gadget they want under the tree. Many self-purchasers have the disposable income - or at least the credit cards - to buy themselves whatever they want, whenever they want it.
Also fueling the trend is the complexity of high-tech gifts. With so many options available in televisions, digital cameras, cell phones, and MP3 players, consumers increasingly need to pick the models they want themselves.
And gift givers are flustered by all the choices, often opting to give cash or gift cards that let the recipient make those decisions. The National Retail Federation expects sales of gift cards to top $18 billion this year, up 6.6 percent from last year.
And the week after Christmas - the prime time for self-shoppers to hit the stores - is becoming one of the busiest sales periods of the season.
"The 10 days after Christmas have become more and more important to retailers," said Dan Butler, vice president of retail operations for the NRF. "More and more people go shopping right after Christmas," and shoppers go armed with gift cards and a list of everything they want to buy for themselves.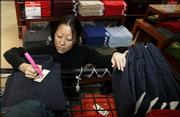 Retailers this month have been telling Wall Street analysts that they are being careful to leave room for self-purchase items when they stock their stores with gift displays. A department store, for example, might stock more basic turtlenecks, and fewer holiday reindeer sweaters.
Self-purchasing is not brand new, of course. Holiday shoppers have been picking up something extra for themselves since the turn-of-the century heyday of the downtown department stores.
"I think there's always been the one-for-you, two-for-me factor," said Hope Greenberg, fashion director of Lucky Magazine. "It's hard to resist the impulse buy when you're at a sale, and you're thinking, 'I really could use a gray cashmere turtleneck,' and it's right there."
What's new, retail watchers say, is the push to offer big discounts on big-ticket items even before the Thanksgiving leftovers have been polished off.
Retailers selling everything from furniture to appliances - which are rarely thought of as gifts - lure shoppers into their stores with early-bird specials and other discounts, and have turned Black Friday into Bargain Friday, Beemer said.
Last year on Black Friday, the self-purchase signs were all over the parking lot at the Wal-Mart in Saddle Brook, N.J. The lot was littered with dozens of packing boxes for the combination television/DVD player Wal-Mart was selling for $120. Shoppers buying the sets for their personal use were leaving the packaging behind to save room in their cars.
One reason Wal-Mart and other retailers offer such "door busters" on Black Friday is that they also hope to sell sweaters, toys, and stocking stuffers to the bargain hunters who buy televisions for themselves.
One retail segment that seems to be immune from the self-purchase trend on Black Friday is toy stores. Kelly Cullen, a spokeswoman for Wayne, N.J.-based Toys 'R' Us, said the lines outside Toys 'R' Us stores on Black Friday were made up almost entirely of parents clutching letters to Santa and children's wish lists.
"We're still all about parents buying gifts," she said.
Copyright 2018 The Lawrence Journal-World. All rights reserved. This material may not be published, broadcast, rewritten or redistributed. We strive to uphold our values for every story published.