Lahaina, Hawaii — Denham Brown hit a turnaround jumper with 1.1 seconds to play to give No. 3 Connecticut a 65-63 victory over No. 8 Gonzaga on Wednesday night in the championship game of the Maui Invitational.
The Huskies (4-0) were able to win for a second straight game with star forward Rudy Gay struggling offensively. Brown, center Hilton Armstrong and freshman forward Jeff Adrien all stepped up to fill the void, none bigger than Brown, who hit the winning shot over Gonzaga's Adam Morrison and J.P. Batista.
The buzzer sounded but the officials put 1.1 seconds back on the clock and Gonzaga (3-1), which had reached the final by beating No. 12 Michigan State 109-106 in triple overtime in one of the best regular-season games ever played, wasn't able to get off a decent shot as the buzzer sounded for real.
Rashad Anderson had 14 points for Connecticut, while Adrien added 11 and Gay had 10.
Morrison, the tournament MVP who had a Maui Invitational-record 43 points against Michigan State, finished with 18.
No. 1 Duke 78, Drexel 68
New York - J.J Redick scored a season-high 31 points for the Blue Devils in the NIT Season Tip-Off semifinals.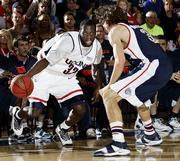 Sheldon Williams added 20 points for Duke (4-0), which advanced to the championship game Friday night against No. 11 Memphis.
Dominick Mejia, a junior who transferred from North Carolina State, scored a season-high 25 points, including 14 in the first half to lead Drexel (3-1).
No. 12 Michigan St. 74, No. 9 Arizona 71, OT
Lahaina, Hawaii - The Spartans capped a wild five days in Hawaii by beating the Wildcats to finish third in the Maui Invitational.
The trip to the 50th state started with a 22-point loss at the University of Hawaii that dropped Michigan State from its No. 4 preseason ranking. It included a 109-106 triple-overtime loss to No. 8 Gonzaga in the Maui semifinals.
Shannon Brown, who had 19 points, gave the Spartans (2-2) the lead for good at 70-68 with a jumper with 35 seconds left.
Hassan Adams had 21 points, nine rebounds and six steals for Arizona (1-2).
No. 11 Memphis 88, No. 16 UCLA 80
New York - Freshman Shawne Williams scored 20 of his 26 points in the first half to help the Tigers hold off the Bruins in the semifinals of the NIT Season Tip-Off.
Williams was 7-for-7 in the first half, including five 3-pointers, and Memphis (3-0) shot 61 percent from the floor en route to a 51-34 lead at the break.
Jordan Farman had 28 points to lead UCLA (3-1).
No. 21 G. Washington 87, Kennesaw St. 42
Washington - Playing without suspended star Pops Mensah-Bonsu, the Colonials beat Kennesaw State behind Mike Hall's 22 points and 10 rebounds.
Mensah-Bonsu is sitting out three games for rules violations related to his early declaration and withdrawal from the NBA draft.
Ronnell Wooten scored 10 points for Kennesaw State (1-3), which won the 2003-04 Division II championship and moved up this year to the Atlantic Sun Conference.
No. 22 Nevada 77, Vermont 62
Burlington, Vt. - Marcellus Kemp scored 24 points to help the Wolf Pack snap Vermont's 14-game home winning streak.
Kemp was 8-of-12 from the field and 7-of-8 from the line for Nevada (2-0) in its 11th consecutive road victory. Nick Fazekas added 20 points for the Wolf Pack.
Martin Klimes led Vermont (0-3) with a career-high 24 points.
No. 23 Maryland 75, Arkansas 62
Lahaina, Hawaii - Ekene Ibekwe had 16 points for the Terrapins (3-1) in the fifth-place game of the Maui Invitational.
Ronnie Brewer had 19 points for Arkansas (2-2).
Copyright 2018 The Associated Press. All rights reserved. This material may not be published, broadcast, rewritten or redistributed. We strive to uphold our values for every story published.