Atlanta — The Atlanta Hawks finally gained their first victory.
Now for the really tough task - back-to-back wins.
Led by Al Harrington's 34 points, Zaza Pachulia's strong work inside and the second-half defense of Josh Childress on Ricky Davis, the Hawks became the last NBA team to win a game, outlasting the Boston Celtics, 120-117, Wednesday night.
The Hawks won after losing their first nine games - the longest winless start in franchise history.
But before they could relish the win, the Hawks couldn't help but cast an eye to a much longer streak without winning consecutive games.
While finishing last in the league with 13 wins last season, the Hawks did not win back-to-back games. They play at Indiana on Friday night.
"That's my biggest goal now, two in a row," Childress said. "Last year I said if we won two in a row I was cutting my hair. I'm not saying that now."
For at least one night, the focus was on ending the winless streak.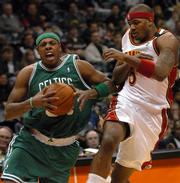 "It's been a long time coming," Harrington said.
"It's a big relief," added Hawks coach Mike Woodson.
The Hawks' nine straight losses came against Western Conference opponents.
"We played every West team pretty good," Woodson said. "It's not like we can't compete, but those guys in the locker room had to believe they can win."
Pachulia added 19 points and 13 rebounds for Atlanta.
"They deserved to win," Celtics coach Doc Rivers said. "Honestly I thought they played harder than us. I thought Zaza Pachulia single-handedly outworked our entire team. ... I thought he was the single toughest player on the floor."
Joe Johnson scored 13 points, all in the second half, and made three free throws in the final 30 seconds to help the Hawks protect the lead.
Topping their previous scoring high for the season by 23 points, the Hawks finally won by shooting 57 percent from the field.
Paul Pierce hit a three-pointer at the final buzzer for 33 points. Davis added 25 points but had only four points in the second half for the Celtics, who fell to 0-4 on the road. Overall, Boston has lost four of its last five games.
Heat 100, Blazers 79
Miami - Dwyane Wade scored 19 points and tied his personal high with 11 rebounds for his 23rd career double-double, leading Miami over Portland. Jason Williams added 16 points, and James Posey and Antoine Walker each had 12 for Miami, which has won six straight at home and five of six overall. Coming off a loss at previously winless Toronto on Sunday, the Heat improved to 5-3 without injured center Shaquille O'Neal.
Wade shot 7-of-13 from the field and 5-of-6 from the foul line in his sixth double-double of the season.
Magic 91, Wizards 83
Orlando, Fla. - Hedo Turkoglu had a season-high 23 points and seven rebounds, helping Orlando overcome an injury-depleted backcourt and beat Washington. The Wizards lost their fifth straight after a 5-1 start and got a rare off night from leading scorer Gilbert Arenas, who finished with 19 points and nine assists but shot 6-of-19. He was averaging 27.5 points and had five 30-point games this season.
Bobcats 108, Knicks 95
Charlotte, N.C. - Gerald Wallace returned from a wrist injury to score 24 points and grab nine rebounds, leading Charlotte over New York. Kareem Rush added 22 points, and Emeka Okafor had 19 points and 11 rebounds for the Bobcats, who won for only the second time in nine games. Wallace made three three-pointers, blocked a shot and dunked on an alley-oop pass.
Suns 100, Rockets 88
Houston - Shawn Marion and James Jones each scored 19 points, and Phoenix found its three-point shooting touch in a victory over Houston. After hitting only eight of 42 from three-point range the previous two games, Phoenix shot 14-of-27 from behind the arc Wednesday for a season-high three-point total. Jones was 5-of-9.
Pistons 114, Nuggets 89
Auburn Hills, Mich. - Richard Hamilton scored 19 points, and Chauncey Billups added 16 points and 11 assists as Detroit ended Denver's four-game winning streak.
Spurs 113, Warriors 89
Oakland, Calif. - Tim Duncan had his NBA-leading 10th double-double by halftime on the way to 19 points and 12 rebounds in San Antonio's fifth straight victory. Tony Parker added 26 points, six assists and five rebounds.
Clippers 103, Raptors 100
Los Angeles - Corey Maggette scored 30 points, Sam Cassell had 10 of his 26 in the fourth quarter, and Los Angeles rallied late to beat Toronto for its fourth straight victory.
Kings 114, Nets 105
Sacramento, Calif. - Mike Bibby scored 25 points, and Bonzi Wells had 23 points and nine rebounds to lead Sacramento over New Jersey.
Hornets 84, Timberwolves 80
Oklahoma City - Chris Paul scored 19 of his 21 points in the second half to rally New Orleans from a 12-point halftime deficit.
Bucks 108, 76ers 97
Milwaukee - Allen Iverson scored an NBA season-high 45 points, but Michael Redd had 32 for Milwaukee.
Copyright 2018 The Associated Press. All rights reserved. This material may not be published, broadcast, rewritten or redistributed. We strive to uphold our values for every story published.