No matter what voting machine Douglas Countians end up using in 2006, the paper ballot will be the most popular method for casting ballots.
At least that was the opinion of some people who took advantage Monday of the opportunity to examine voting machines from three companies whose products were displayed at the Douglas County 4-H Fairgrounds.
"I think there will be some terribly confused voters," said Hubert Pritchett, after he and his wife, Connie, spent time looking at the machines and learning how they worked.
John and Audrey Studdard, also of Lawrence, shared the Pritchetts' concern, but thought people, especially younger ones used to computer technology, would catch on.
"It's very impressive technology," John Studdard said.
Three companies answered the county's request to bring their machines and show the public how they work: Voting Technologies International, of Milwaukee; Diebold Election Systems, of McKinney, Texas; and Election Systems & Software, of Omaha, Neb.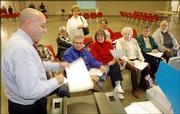 The systems have options that include a touch screen for casting votes and electronic vote tabulations with some type of paper trail option. The machines also have the ability to allow people with disabilities to cast their votes. Some systems also provide the paper ballot alternative.
Rob Tabor, who is blind, wanted to test all of the machines. He was generally impressed with the first one he tried, the Voting Technologies International DRE machine.
"I was able to utilize the machine without any trouble," Tabor said afterward. "On the whole, it was very positive."
Tabor, who is a benefits advocate at Independence Inc., an agency that assists people with disabilities, said he made suggestions to a Voting Technologies representative regarding voice control on the headset he used to listen to voting instructions and ballot names, and he also suggested the machine could have a spell-back ability.
"My whole approach is that it be no more complicated than an ATM machine," Tabor said.
Douglas County Clerk Jamie Shew, who organized the event, must decide by the end of the month which machine the county should use. He will make his recommendation to Douglas County commissioners on Monday.
Kansas counties are having to make changes in voting under the 2002 federal Help America Vote Act, which requires that voting be made more accessible and that there is an opportunity for machinery to help voters double check their ballots before they are turned in. The new equipment must be ready for use by the August primaries.
Shew estimated about 200 people showed up to see and test the machines, which were on display for three hours. Many of those who attended have been polling place workers, including the Studdards and Connie Pritchett.
Voters will want the option of using paper ballots instead of a machine, the Studdards and Pritchetts said.
Those attending the event had the opportunity to complete a survey and express their opinions about the machines. Shew will use that information in making his recommendation to commissioners.
"Everybody's taking a lot of time to fill them out," Shew said of the surveys. "People are asking good questions.
Copyright 2018 The Lawrence Journal-World. All rights reserved. This material may not be published, broadcast, rewritten or redistributed. We strive to uphold our values for every story published.