New York — Justin Gray started out the night slowly, but hit the big shot when he needed to for Wake Forest.
Gray hit a jumper to force a second overtime and then scored four of his 18 points in the extra session to lift No. 19 Wake Forest to a 78-73 victory over Texas Tech in the consolation game of the 2K Sports College Hoop Classic on Friday night.
"Gray never met a shot he didn't like," Wake Forest coach Skip Prosser said.
Gray struggled from the field, going just 5-for-18. He didn't make his first basket until connecting for a three-pointer with 14:05 left in the second half. He also had 10 turnovers.
"This team is aging me," said Prosser, who lost all three overtime games last season.
He already has won two, beating George Mason, 83-78, in the first round of the tournament. Gray sent the game into the second overtime, hitting a 25-footer with 3.7 seconds left to tie it at 66.
"We were dead in the water and we hit a big shot," Prosser said.
Gray also made a tough fall-away baseline jumper with 23.7 seconds remaining to give Wake Forest (3-1) a 75-70 lead.
After Jarrius Jackson's three-pointer pulled Texas Tech to 75-73, Gray hit two free throws to extend the lead to four. Jackson missed a three-pointer from the wing before Trent Strickland's free throw provided the final margin.
"They were able to capitalize on their chances," Texas Tech coach Bob Knight said. "In the overtime, they came back and made big plays to carry on and give them a chance. It really was a good game for whoever won and a tough one for whoever lost."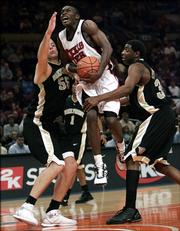 Oklahoma State 74, Texas-Arlington 65
Stillwater, Okla. -- JamesOn Curry and Mario Boggan scored 18 points each as Oklahoma State beat Texas-Arlington in the Cowboys' regular-season opener.
In a game in which Oklahoma State coach Eddie Sutton wasn't courtside because of chronic back pain, the Cowboys struggled to pull away until late in the second half.
Curry connected on a three-point basket with 9:24 remaining, putting OSU up 53-46.
Kansas State 83, Georgia Southern 58
Manhattan -- Cartier Martin tied a career high with 23 points to lead Kansas State over Georgia Southern. Martin added 11 rebounds and six assists for the Wildcats, who also got 14 points from Clent Stewart, 12 from David Hoskins and 11 points from Lance Harris.
Kansas State (1-0) jumped to a 30-12 lead in the first half on the strength of a 21-5 run. Georgia Southern (1-2) closed within 34-21 a few minutes later, but the Wildcats rattled off nine more points for a 43-21 halftime lead.
Nebraska 80, Longwood 65
Lincoln, Neb. -- Joe McCray, Aleks Maric and Jamel White each scored 14 points to lead Nebraska over Longwood in the John Thompson Foundation Basketball Challenge. Nebraska (1-0) used 15-3 runs in each half to secure the victory.
Colorado 73, North Carolina-Wilmington 54
Boulder, Colo. -- Chris Copeland's 20 points led Colorado past North Carolina-Wilmington, the Seahawks' first loss after three impressive wins in the Black Coaches Assn. Tournament.
Copyright 2018 The Associated Press. All rights reserved. This material may not be published, broadcast, rewritten or redistributed. We strive to uphold our values for every story published.