Wesley Dalberg, administrator for the Salvation Army's Lawrence operations, has a new sentiment he's spreading this holiday season: Don't quit now.
Dalberg is hoping that the familiar ring surrounding the Salvation Army's annual kettle fundraising campaign won't fall on deaf ears after members of the public already have given to help hurricane victims nationally and victims of an apartment fire locally.
"There is a lot of concern that people have given so generously to Katrina victims, to Rita victims, to victims of the Boardwalk fire," Dalberg said. "We know people have given and given again. We just hope there is some giving left."
The Salvation Army will kick off its annual kettle fundraising campaign at 11 a.m. today in front of the US Bank building at Ninth and Massachusetts streets.
The phrase that is striking fear into nonprofit agencies across the country these days is "donor fatigue." It's the catchphrase used to describe growing concern that donors will bypass many of the traditional charities because they've already given to meet a host of disasters this year.
But there is some optimism that the donation drain may not devastate Lawrence charities, said Ann Gardner, 2005 fundraising drive chairwoman of the United Way of Douglas County.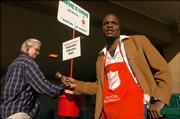 "We're hearing a lot about that, but so far we seem to be on track to raise as much money as we did last year," said Gardner, who also is editorial page editor of the Journal-World.
Gardner said the formal part of the United Way campaign ended Friday, but that the organization would continue to make more calls for another month to boost donation totals. The campaign raised $1.56 million last year.
Dalberg said that the Salvation Army's kettle campaign raised $97,000 last year, and he hopes it will raise $100,000 this year. He said he also was optimistic that the community would step up to the challenge.
"It would be a sad thing if after giving to all these national disasters that we forgot the folks right here in our own community," Dalberg said.
Proceeds from the kettle campaign are used to help pay for holiday meals given to those in need, gift purchases for young children and other programs to help people pay their utility bills.
"We try to help people who would maybe slip through the cracks and might run the risk of being forgotten," Dalberg said.
None of the money donated through the kettle campaign will be used to help pay for a homeless shelter and service center that the Salvation Army is working on in East Lawrence.
Dalberg said the Salvation Army has 17 kettle locations throughout the city. Several of the kettles began accepting money last week, but Dalberg said the organization was still in need of volunteer bell ringers. He said people could volunteer for as little as two hours. Dalberg said the Salvation Army would like to keep all 17 locations open six days a week for approximately 12 hours per day, but finding people to staff the kettles can be difficult. People interested in volunteering can call the Salvation Army at 843-4188 for more information.
Amanda Waters, director of community relations for the Kansas City division of the Salvation Army, said the organization nationally was trying to move beyond the traditional kettles. The Salvation Army has reached a deal with Wal-Mart to add a section to the retailer's Web site to allow people to make a donation to a "virtual kettle," while they're shopping online. Waters said the Salvation Army is seeking to reach similar agreements with other retailers, businesses or even individuals who have Web sites.
"But we're still counting on people coming to the red kettles, too," Waters said. "For a lot of people, that's the sign that it is the Christmas season."
Copyright 2018 The Lawrence Journal-World. All rights reserved. This material may not be published, broadcast, rewritten or redistributed. We strive to uphold our values for every story published.