Seattle — Ray Allen scored 20 of his 27 points in the second half to help the Seattle SuperSonics rally for a 98-84 victory over the Chicago Bulls on Friday.
Allen could not find a rhythm in the first half, making just two of 10 shots, but was 7-of-9 in the second half. Rashard Lewis carried Seattle in the first half, scoring 13 points. He finished with 27 points on 11-of-21 shooting.
Luke Ridnour added 10 points for the SuperSonics, who won consecutive games for the first time this season. Former Kansas University All-American Nick Collison scored eight.
Luol Deng scored 16 points for Chicago. Michael Sweetney, making his first start of the season, added 13 points and 11 rebounds for the Bulls in their third straight loss. Hinrich, a former teammate of Collison at KU, managed 11 points and four assists.
Chicago dropped its third straight on its annual Western swing while the circus is at the United Center. The Bulls are 1-41 since this trip began in 1999.
Last in the NBA in scoring defense, Seattle held just its second opponent under 100 points this season. The SuperSonics were giving up 109 points per game coming into Friday and allowing teams to shoot 50 percent.
After shooting 47 percent in the first quarter, Chicago made just 22 of 64 shots in the final three quarters.
Pacers 93, Bobcats 85
Indianapolis - Jermaine O'Neal had 29 points and 18 rebounds and was 9-of-17 from the field and 11-of-12 from the line for Indiana.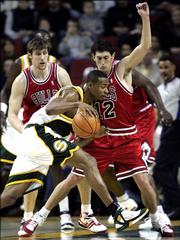 Former Missouri standout Kareem Rush led Charlotte with 20 points. He scored a career-high 35 against the Pacers on Wednesday.
Cavaliers 102, Magic 84
Cleveland - Zydrunas Ilgauskas scored 20 of his 22 points in the first half, LeBron James added 16, and Cleveland cruised to its fifth blowout victory at home.
With their sixth consecutive victory, the Cavs improved to 7-2, matching the second-best start in franchise history.
Celtics 100, Raptors 93
Boston - Ricky Davis and Paul Pierce each scored 26 points, and Pierce added 11 rebounds in leading Boston to its seventh victory in its last eight games against Toronto.
Heat 106, 76ers 96
Miami - Dwyane Wade came within a rebound of a triple-double, scoring a season-high 32 points to help Miami end Philadelphia's six-game winning streak.
Hornets 95, Hawks 92
Oklahoma City - Rookie Chris Paul scored 25 points, including five late free throws, and New Orleans held off Atlanta's fourth-quarter comeback.
Nuggets 95, Knicks 86
Denver - Carmelo Anthony took over the game in the third quarter and finished with 25 points, ruining Larry Brown's latest return to his first NBA coaching stop.
Suns 102, Jazz 94
Phoenix - Eddie House made seven of 11 three-point attempts en route to a career-high 31 points as Phoenix handed Utah its fourth straight loss.
Pistons 78, Rockets 70
Houston - Richard Hamilton scored 19 points, Detroit matched its best start since its first championship season.
Tayshaun Prince and Rasheed Wallace added 14 points apiece for the Pistons, 8-0 for the first time since 1988-89.
Warriors 91, Trail Blazers 80
Portland, Ore. - Jason Richardson had 28 points and seven rebounds for Golden State, and Baron Davis had 16 points and 11 assists.
Kings 103, Bucks 82
Sacramento, Calif. - Peja Stojakovic scored 19 points, Mike Bibby had 17, and Sacramento won consecutive games for the first time this season.
Clippers 97, Lakers 91
Los Angeles - Elton Brand had 23 points to lead the Clippers. Kobe Bryant scored 36 points for the Lakers, but made only 12 of 35 shots.
Copyright 2018 The Associated Press. All rights reserved. This material may not be published, broadcast, rewritten or redistributed. We strive to uphold our values for every story published.