Ames, Iowa — The only thing stronger than the wind howling through Jack Trice Stadium was Iowa State's defense in the second half.
Steve Paris, Brent Curvey and Tim Dobbins each made huge defensive plays, helping Iowa State stay in the running for a share of the Big 12 North championship with a 30-16 victory Saturday night over No. 22 Colorado.
Paris returned a fumble 66 yards for a touchdown after Dobbins knocked the ball loose, and Curvey, a 305-pound defensive tackle, rumbled 66 yards for a TD with an interception to secure the Cyclones' fourth straight victory and prevent Colorado from clinching the division title.
"If we didn't have (Paris) and Curvey make those plays, it's overtime, and we're still playing," ISU quarterback Bret Meyer said.
Iowa State (7-3 overall, 4-3 Big 12 Conference), which shared the division crown with Colorado last year, can tie for this year's title if it beats Kansas University on Nov. 26 and Colorado (7-3, 5-2) loses to Nebraska the day before. Colorado clinches the championship if it wins, regardless of what anyone else does.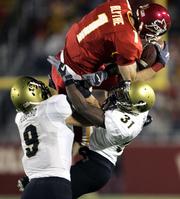 Missouri (6-4, 4-3) would have a chance to gain a title share if it wins Saturday at Kansas State. A three-way tie sends Missouri to the Big 12 championship game in Houston on Dec. 3. An Iowa State-Colorado tie sends Iowa State.
"We know some things have to go our way," Curvey said. "We know we just have to keep playing and keep playing."
Colorado has to do the same.
"So many things were out there for us," Colorado coach Gary Barnett said. "The ring was out there. We just missed it."
The Buffaloes had chances.
With Iowa State leading 23-16, Colorado appeared on its way to the tying touchdown, moving from its own 11 to the Iowa State 27 in the final minutes. Seconds later, the Cyclones were in control.
On first down, Iowa State's Jason Berryman pressured Joel Klatt on a screen pass, and Klatt threw right to Curvey, who returned two fumbles for touchdowns last year. Curvey had a clear path to the end zone and got a block from Paris to free him for the final 20 yards, scoring with 1:31 left.
Berryman's sack of Klatt on fourth down with 58 seconds left ended Colorado's final hope on a night that began with tornado sirens sounding an hour before kickoff.
The field, stands and press box were cleared, but no damaging storms moved through the area, though the start of the game was delayed 30 minutes.
"It was Cyclone weather," Iowa State coach Dan McCarney said.
Copyright 2018 The Associated Press. All rights reserved. This material may not be published, broadcast, rewritten or redistributed. We strive to uphold our values for every story published.