It's a rare president who is so loved by his fellow citizens that he gets his own memorial in Washington D.C. - Washington, Jefferson and Lincoln are among the few so honored.
Now it might be time to add Dwight Eisenhower to the pantheon.
Two Kansas congressmen and a senator are part of the effort to create an Eisenhower memorial near the National Mall, honoring the leader of the D-Day invasion of Europe during World War II and the only Kansan to serve as president.
"I think he is a top-tier president," said U.S. Rep. Dennis Moore, D-Kan., who serves on the Eisenhower Memorial Commission.
The commission has been around since 1999, created by an act of Congress and approved by then-President Bill Clinton. But members say they've now found a promising site near the Department of Education and the Air & Space Museum and are nearing creation of a final plan for Congressional approval.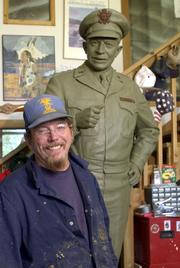 "It's not going to happen next week, next month or next year," said U.S. Rep. Jerry Moran, R-Kan., who also serves on the memorial commission.
"(But) I don't think there's any question that this memorial will be built."
'Near-great'
Eisenhower was born in Texas in 1890, but grew up in Abilene, Kan., before attending the U.S. Military Academy at West Point. He served as the commander of Allied forces in Europe during World War II, then was elected to two terms as president during the 1950s.
Mack Teasley, executive director of the Eisenhower Foundation in Abilene, said Eisenhower left office ranked by historians in the bottom third of presidents - but scholars have come to "like Ike" over time, routinely ranking him among the top 10 executives.
"I think there's a growing appreciation for the important role he played - as president, two terms during the early stages in the Cold War - and his unsurpassed role in World War II, leading the Normandy landings and the Allies to victory," Teasley said.
"He's in what historians would refer to as the 'near-great' category."
Moran said the memorial, which could cost as much as $80 million, would include the traditional sculpture and architecture associated with Washington's grandest monuments. But there would also be space for an education center, to explain Eisenhower's role in America's history in the 1940s and '50s.
There's a lot of red tape to cut through in the meantime, Moran said.
"The World War II memorial took forever - just with all the agencies, commissions and advisory groups that have to sign off on anything doing with the Mall," he said.
U.S. Sen. Pat Roberts, R-Kan., also serves on the memorial commission.
"What better place to honor President Eisenhower, a leader so vital to our nation's history, than our nation's capitol?" Roberts said Tuesday.
There is no timeline for completion, but Moore said he is optimistic the project will generate support.
"I think President Eisenhower was a great military leader, a great president, a great Kansan and a great human being," Moore said, "and I really think we should have a memorial to him in Washington D.C."
A timeline of events in the life of Dwight D. Eisenhower:
1890: Born in Denison, Texas 1892: Family moves to Abilene, Kan. 1915: Graduates from the U.S. Military Academy at West Point 1916: Marries Mamie Eisenhower 1942: Named the commanding general of U.S. forces in the European theater of war, and of Allied forces in North Africa. 1943: Appointed Supreme Commander of the Allied Expeditionary Forces. 1944: Commands the D-Day invasion of Europe. 1950: Appointed commander of the North Atlantic Treaty Organization. 1952: Elected to first of two terms as U.S. president 1959: Dedicates his presidential library at Abilene. 1969: Dies in Washington D.C.
Sources: www.potus.com, Dwight D. Eisenhower Presidential Library and Museum
Copyright 2018 The Lawrence Journal-World. All rights reserved. This material may not be published, broadcast, rewritten or redistributed. We strive to uphold our values for every story published.