Anaheim, Calif. — Dallas McPherson's solo homer off Mike MacDougal in the 10th inning capped a wild comeback Friday night and gave the Los Angeles Angels a 9-8 victory over the Kansas City Royals.
McPherson's one-out shot over the wall in right center, his third of the season and second in two nights, came on a 1-0 pitch from MacDougal (2-2).
Down 8-3 after the Royals scored four times in the ninth, the Angels stormed back with five runs - four unearned - in the bottom of the inning. Kansas City shortstop Angel Berroa made two costly errors to let the Angels tie it.
Scot Shields (4-1) pitched a perfect 10th inning.
The victory kept the Angels tied for the AL West lead with Texas, a 6-2 winner over the Chicago White Sox.
McPherson began the ninth-inning rally with an RBI single against Mike Wood.
Then, with the bases loaded and no outs, Adam Kennedy hit a potential double-play grounder to shortstop, but Berroa's throw to second sailed wide for his second error of the inning. Bengie Molina, McPherson and Orlando Cabrera scored and Kennedy went all the way to third.
Still with no outs, Chone Figgins singled up the middle to score Kennedy and tie it 8-all. Wood then got his only out of the inning when Darin Erstad sacrificed Figgins to second.
MacDougal came in and intentionally walked Steve Finley, got Garret Anderson on a grounder to first, then finally ended the inning, stranding runners at second and third, by getting Cabrera on a grounder to short.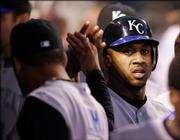 He struck out Molina to open the 10th, but McPherson followed with his homer.
The loss was the Royals' fourth in a row and seventh straight on the road.
Los Angeles closed within 4-3 in the eighth on Kennedy's RBI double off Ambiorix Burgos, followed by Finley's broken-bat single against Andrew Sisco to score Kennedy.
But the Royals scored four in the ninth off Esteban Yan to take an 8-3 lead. John Buck hit a solo homer, then three more runs scored when Mike Sweeney's single to left field bounced past Anderson for an error and rolled all the way to the fence. Berroa scored from second, David DeJesus scored from first, and Sweeney made it all the way home.
Kansas City opened a three-run lead with a pair of runs off Paul Byrd in the seventh inning. Berroa had an RBI single, and the other run scored when Byrd's low, outside pitch to Sweeney got away from Molina for a passed ball.
The Royals took a 2-1 lead in the fourth when Emil Brown doubled to right-center field with one out, then scored on Terrence Long's bloop single to left.
DeJesus' RBI triple in the third had drawn Kansas City even.
Los Angeles jumped out to a 1-0 lead in the opening inning when Figgins led off with a triple - for the second night in a row - and scored on Finley's first of two RBI singles.
Notes: Angels RHP Francisco Rodriguez, on the DL because of a strained right forearm, is scheduled to throw in the bullpen today and pitch in a simulated game Monday. If he's deemed OK afterward, the Angels' closer will fly to Chicago on Monday night to join the team. ... Despite Kansas City RHP Jose Lima's 0-4 record and 8.13 earned-run average in 11 starts, interim manager Bob Schaefer has no plans to demote him to the bullpen. "That's not the answer, I don't think," Schaefer said. "We don't have the luxury right now to take him out of the rotation."
Copyright 2017 The Associated Press. All rights reserved. This material may not be published, broadcast, rewritten or redistributed. We strive to uphold our values for every story published.