Baghdad, Iraq — Insurgents said Wednesday in interviews and Internet statements that the leader of al-Qaida in Iraq, Abu Musab al-Zarqawi, was struggling with a gunshot wound to the lung, and one of his commanders said al-Zarqawi was receiving oxygen, heightening suspicion that groundwork was being laid for an announcement of al-Zarqawi's replacement or death.
In the western province of Anbar, meanwhile, U.S. Marines clashed with gunmen Wednesday in their second large offensive there this month.
A U.S. and Iraqi force of roughly 1,000 troops killed 10 insurgents as it began a sweep of Haditha, the U.S. military said. The offensive followed an increase in insurgent attacks on Marines posted at a dam near the small city on the Euphrates River.
The 10 killed Wednesday included a man identified by residents as a Muslim cleric who was shot as he fired on the U.S. and Iraqi forces with an AK-47 assault rifle, the U.S. military said in a statement.
Insurgents offered no tangible proof for their second day of reports that al-Zarqawi had suffered a potentially fatal wound. The Jordanian-born guerrilla's fighters and one of his top lieutenants have said he was wounded in an ambush by U.S. Marines and Iraqi forces last weekend around the western city of Ramadi. A U.S. military official, Lt. Col. David Lapan, said Wednesday that he had found no record of such an ambush.
The insurgents' accounts suggested at a minimum that steady U.S. and Iraqi military pressure was having an effect on al-Zarqawi's group. In an interview Tuesday, the al-Zarqawi lieutenant, Abu Karrar, described his group as weighing possible foreign or Iraqi successors in case al-Zarqawi died.
Al-Zarqawi is the man most wanted by the United States in Iraq, with a $25 million bounty on his head as the alleged instigator of many of the beheadings, suicide bombings and other bloody attacks by insurgents. U.S. and Iraqi forces say they have captured or killed about two dozen top-ranking members of al-Zarqawi's network in recent months.
Speculation abounds
One view Wednesday among some Iraqi Sunni Muslim insurgents - sometime rivals and allies of foreign fighters such as al-Zarqawi - was that the attrition among his top supporters may have undercut his support within the insurgency. That view ascribed Tuesday's sudden announcement of his grave injury to a power struggle within his group.
A leader in al-Zarqawi's organization, identifying himself by the battlefield name Abu Jalal Iraqi, said in an interview Wednesday that al-Zarqawi's health "wasn't easy."
"He is wounded in his right lung, in which the bullets crossed and remained in his back," Iraqi said. Al-Zarqawi, who is about 39, "is being given respiration," the lieutenant said, without elaborating.
Later Wednesday, militant Islamic Web sites later gave accounts similar to Iraqi's, down to a description of al-Zarqawi being treated by Sudanese and Saudi doctors. One site posted a denial of the lung injury.
The amount of speculation about the Jordanian-born militant is unusual both in size and scope.
"It makes me wonder if al-Zarqawi's injury is severe enough that they are afraid to lie about it, and are instead just trying to minimalize the impact," said Washington-based counterterrorism expert Evan Kohlmann. "In other words, they 'steal the thunder' from the Western media : a crude form of defusing a potential public relations disaster."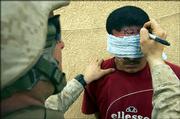 It also could be a ploy to make al-Zarqawi more popular among Islamic zealots who follow him and his mentor, Osama bin Laden.
A return to the battlefield after being injured by U.S. forces could make al-Zarqawi look like "superman," Gen. Wafiq al-Samarie, the Iraqi presidential adviser for security affairs, speculated on Al-Jazeera TV.
Wild western province
Marines said their offensive in Haditha, announced early Wednesday, followed increasing bombings and mortar attacks at the town. Iraqi forces and units from the 3rd Battalion, 25th Marines, were carrying out Operation New Market in and around Haditha, a U.S. military statement said.
The operation aimed at disrupting insurgent action in the town and keeping up pressure applied during a May 7-14 operation farther west in Anbar province, Marines said. Fewer than 5,000 Marines and a handful of Iraqi forces in Anbar have tried to keep control of tens of thousands of square miles believed crisscrossed by foreign and local insurgents alleged to be drawing support across the Syrian border.
Copyright 2018 The Lawrence Journal-World. All rights reserved. This material may not be published, broadcast, rewritten or redistributed. We strive to uphold our values for every story published.