Washington — Ignoring President Bush's veto threat, the House voted Tuesday to lift limits on embryonic stem cell research, which supporters said could speed cures for diseases but opponents saw as akin to abortion.
Bush called the bill a mistake and said he would veto it. The House approved it by a 238-194 vote, far short of the two-thirds majority that would be needed to override a veto.
"This bill would take us across a critical ethical line by creating new incentives for the ongoing destruction of emerging human life," the president said Tuesday.
An alternative offered by Republican leaders that would fund research using stem cells derived from adults and umbilical cords rather than from embryos, passed 430-1, with Rep. Ron Paul, R-Texas, the lone opponent. But the focus was on the embryo bill.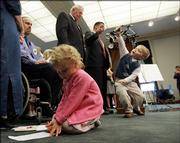 Majority Leader Tom DeLay, R-Texas, said the embryonic research bill would force taxpayers to finance "the dismemberment of living, distinct human beings."
Supporters of the measure said many embryos that would be studied would otherwise be discarded rather than implanted in the wombs of surrogate mothers.
The more controversial bill, sponsored by Reps. Mike Castle, R-Del., and Diana DeGette, D-Colo., would lift Bush's 2001 ban on federal funding for new research using stem cells from embryos that had not been destroyed before August 2001.
The House vote on the Castle-DeGette bill was intended mostly as a show of force to help propel it through the Senate and, the sponsors hope, into compromise talks with the White House.
In the Senate, Arlen Specter, R-Pa. and Tom Harkin, D-Iowa, asked Senate Majority Leader Bill Frist, R-Tenn., to immediately bring the stem cell issue to the Senate floor. Backers of embryonic stem cell research said the measure was supported by 60 senators, enough to break a filibuster by opponents, and could even get a two-thirds majority that would be enough to overpower a presidential veto.
Copyright 2018 The Associated Press. All rights reserved. This material may not be published, broadcast, rewritten or redistributed. We strive to uphold our values for every story published.