Leavenworth — The wooden horses and rabbits were tattered and grungy when the vintage carousel was hauled into Leavenworth back in 1988.
Broken ears, tails, stirrups and other elaborate details had been tossed out and long since forgotten. Built in 1913, the machine - one of the few remaining intact carousels produced by the celebrated C.W. Parker - was worth more in pieces than it was assembled.
But a group of spirited Leavenworth retirees, self-billed as "The Over the Hill Gang," was determined to revive the captivating memory of Parker, a Leavenworth amusement manufacturer known across the globe in the early 1900s for his carousels, shooting ranges and Ferris wheels.
After years of restoration work, the gang - a pilot, a salesman, a woodworker, an ice-cream shop owner and a few dozen other Leavenworth retirees - opened its tent-shaped carousel museum April 30 in downtown Leavenworth. Eventually, they hope to make it a nationwide clearinghouse for carousel enthusiasts that will house a carousel archive and a pre-Civil War model owned by the National Carousel Assn.
But for now, the centerpiece of the museum is the 1913 machine and its original horses and rabbits, restored to pristine condition.
"It's taken years, but if you look at the carousel, it's a piece of art," said Del Sanders, president of Leavenworth Historical Museum Assn.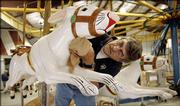 In his heyday, Parker was a man who could turn Leavenworth on its side. He was known to winter his traveling menagerie, carnies and carnival acts in train cars alongside his Leavenworth factory. Proper townsfolk didn't appreciate the chaos of lions and monkeys along the busiest street in town, Sanders said.
The carnivals were distracting, but were only a minor piece of Parker's enterprise. Carousels were his real claim to fame. Nearly a century later, the horses are still traded across the country and have been known to command tens of thousands of dollars at auction.
When the 1913 carousel arrived in Leavenworth 17 years ago, the volunteers had about $300 to finance their vision - well short of the cost to build the $1.2 million museum.
Back then, no one had a clue about the obstacles they would endure, remembers Betty Phillips, who once led the group.
They took things one week at a time. The group met every Thursday to brainstorm and restore horses over coffee. They worked at their own pace with no official supervisor, assigning themselves tasks and projects to match their talents.
Some raised money. Others learned mechanics. When the lead woodcarvers died, the group brought in a gifted replacement, Jerry Reinhardt of Stilwell.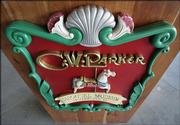 Louis Klemp, a one-time county commissioner known for his ability to agitate local leaders, was designated as the man to beg local governments for money.
"He irritates people, but who cares? He gets it done," Reinhardt said.
Larry Tate stripped much of the old paint from the horses.
"He's the oldest male stripper in the state of Kansas," Reinhardt and others said in unison.
And others lent assistance where they could. Joanne Ochs took pictures. Jim Smith handled metal work.
Officially, Reinhardt is the "acting" director of the effort, a title he's held for nearly a decade. He is the closest thing the gang has to a boss. But his supervisory duties do not include criticism.
On a recent workday, members of the gang slowly drifted in and out without bothering to let the others know when they might return. Other days, they have to remind themselves to go home, and sometimes they wonder whether they've spent too much time together inhaling paint.
"We've been together too long, I'll tell you that," Klemp said.
For all they accomplished, those in the Over the Hill Gang laugh now, remembering their mistakes.
They expected to open years ago but were held up first by a lack of money, then by diesel contaminants in the soil, which had to be removed.
And years later, they can finally tease Reinhardt about his ignorance of rock 'n' roll.
It was Vernon Ochs' idea to write Grammy-winning singer Melissa Etheridge, another Leavenworth native, and plead for the money to purchase a band organ. Reinhardt wrote the letter, never really sure whether Etheridge was a religious or a country singer.
"I didn't hear anything back, and I thought it was another bum idea from Vernon," Reinhardt said.
A check from Etheridge, for $15,000, arrived weeks later.
Donations like that have helped move the effort along, allowing members of the gang to learn as they went.
"There's no manual for this thing. There are no guidelines. You learn it on the fly," Reinhardt said.
The group has mastered the fine art of painting, carving, mechanics and begging for money. However, the nonprofit museum is far from complete. It opened with the working carousel, but there are many additions to follow.
"We're going to keep adding," Reinhardt said, stopping just short of a promise to returning patrons: "Every time they come, we're going to make it better."
Copyright 2018 The Associated Press. All rights reserved. This material may not be published, broadcast, rewritten or redistributed. We strive to uphold our values for every story published.