AUBURN HILLS, MICH. — The Detroit Pistons played like champions with swarming, relentless defense and unselfish offense.
Ben Wallace had 19 points, 11 rebounds and three blocks to lead Detroit to an 86-67 victory Tuesday night over the Indiana Pacers and a 3-2 lead in the Eastern Conference semifinal series.
The defending NBA champs can close out the pesky Pacers on Thursday night in Indianapolis.
The Pistons held Indiana without a field goal for a stretch of 10:39 -- including the first 6:26 of the second half -- turning a tie game into a 22-point advantage. The 30-4 run by Detroit during the second and third quarters turned the game into a rout.
"I think it's probably one of our best performances," Wallace said. "When we play like that, we're a tough team to beat."
Of the previous 123 best-of-seven series tied 2-2, the winner of Game 5 advanced 103 times (84 percent).
"This is going to be a true test of our will," Indiana's Jermaine O'Neal said. "If we can't win a game on our home court, we better be ready for next season."
Indiana coach Rick Carlisle used all four of his second-half timeouts in the third quarter, trying to slow down the Pistons.
It didn't work.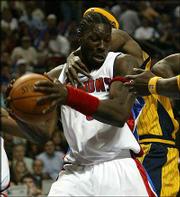 The outcome was a foregone conclusion by the fourth quarter, but the final few minutes provided a couple of oddly entertaining moments.
League rules require that each team calls a timeout in the fourth quarter, but because Carlisle didn't have any left, the Pacers were called for a technical foul with 2:17 left.
"I've never seen that. It blew me away," Pistons coach Larry Brown, whose NBA coaching career started in 1976, said in an interview with the Associated Press. "I asked (official) Joe Crawford if he's ever seen it, and he said he hadn't in his 28 years."
Seldom-used Darko Milicic, the second overall pick by the Pistons in 2003, made the technical foul shot.
"It wasn't that big of a deal," Carlisle said of the quick second-half timeouts. "But at the time, I felt like if we were going to have a chance to stay in it, we needed to stop the game."
O'Neal had 14 points, and Stephen Jackson scored 12 for the Pacers. Reggie Miller was held to eight points -- his third single-digit scoring game of the series -- and Jamaal Tinsley scored just two.
Tayshaun Prince had 16 points and 12 rebounds for the Pistons, Chauncey Billups and Richard Hamilton each scored 13, and Rasheed Wallace added 10.
Detroit's reserves -- led by Antonio McDyess and Carlos Arroyo -- keyed a 15-2 run late in the first half, giving the Pistons a 42-33 lead.
"Things kind of snowballed from there," Carlisle said.
Copyright 2018 The Associated Press. All rights reserved. This material may not be published, broadcast, rewritten or redistributed. We strive to uphold our values for every story published.