Seattle — SuperSonics coach Nate McMillan was asked Wednesday if he thought Seattle would be better served by minor tweaks or a dramatic overhaul going into Game 3 against San Antonio.
"I really don't know. You got any suggestions?" he asked.
Well, there's not enough time for big changes, but the Sonics sure could use a quick fix in Game 3 tonight.
San Antonio leads the best-of-seven series 2-0, and judging from the Spurs' play, there's no one in silver and black too concerned. Seattle's biggest lead in the series has been two points. The Sonics, frustrated by San Antonio's swarming defense, are shooting 42 percent. It drops to 24 percent from three-point range -- normally a Seattle specialty.
"We've got to play close to perfect basketball," McMillan said. "We've been forced into a lot of turnovers. Our execution is not as sharp as it needs to be to beat this team. That's what a good team will do to you. They've played at the top of their game. We haven't."
San Antonio is getting outstanding play from its guards, with Tony Parker scoring 29 in Game 1 and Manu Ginobili coming off the bench for 28 on Tuesday night.
"We have to cut down on them getting into the lane and breaking our defense down," Seattle's Antonio Daniels said. "But it's easier said than done. Those are two very good guards. We did a nice job on Tony last game, and Ginobili goes for 28. That's part of them being a good team."
The Spurs have won six straight playoff games since losing at home in the first-round opener against Denver. They're rolling now, and a compact series -- three games in five nights -- plays into their favor.
"There's not two or three days in between where teams can make huge adjustments," San Antonio guard Brent Barry said. "We're going to get right back. That bodes well for us in terms of the schemes that we're sticking with and the success we've had."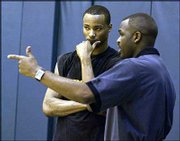 Tim Duncan looks as solid as ever, too. He had 22 points and nine rebounds in Game 1, then 25 points and nine rebounds in Game 2.
"We've been outplayed in the first two games in almost every area," Daniels said.
So what can Seattle do next?
Nothing has changed, as far as McMillan is concerned. The Sonics must reduce the 31 turnovers they committed in the first two games, and they must be more aggressive so San Antonio can't set up defensively.
Oh, and they've got to keep those pesky Spurs guards out of the paint. Parker and Ginobili devastated Seattle with their quick feet and penetration.
"I'm not going to say they've got us on our heels," Sonics forward Reggie Evans said. "We still have a lot of games left. We'll just keep our heads up, keep our spirits up and try to get a win tomorrow."
Copyright 2018 The Associated Press. All rights reserved. This material may not be published, broadcast, rewritten or redistributed. We strive to uphold our values for every story published.