A Sunday afternoon on the couch with a bag of chips and a cold beer may soon get a lot easier.
Legislation approved by state lawmakers -- and scheduled to be signed Monday by Gov. Kathleen Sebelius -- will allow Sunday liquor sales to continue in Lawrence and other cities across the state.
But the new law also will require those cities that allow Sunday sales to let grocery stores, convenience stores and other licensed retailers to sell 3.2 percent beer on Sundays. Currently that is prohibited in Lawrence.
"At last," was the reaction of Jim Lewis, owner of Checkers Foods, 2300 La.
He said he frequently had customers who had lived in other states come to the store and become frustrated that they could buy Sunday snacks and such but couldn't buy the beer to wash it down.
"It is a backward law," Lewis said. "A hundred years ago maybe it made sense, but that is not the world we live in anymore. If you are in business today, you need to be able to open your doors and sell when you need to sell."
Customers seem to agree. Several Lawrence shoppers on Wednesday said they couldn't understand why 3.2 percent beer -- which is less potent than the "full-strength" beer sold at liquor stores -- would be off-limits on Sundays when booze was readily available in liquor stores on the same day.
"It is a good idea -- I love 3.2 beer," said Joel Hiatt, a Kansas University junior. "And it's more convenient to go to the grocery store. More competitive."
City commissioners will have to take some action to allow the new regulations to take effect. Before Nov. 15, the city must pass a new ordinance allowing Sunday sales to continue. If the city doesn't pass the ordinance, Sunday alcohol sales at both liquor stores and grocery/convenience stores would be illegal.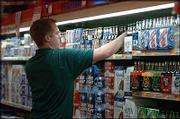 Several city commissioners said they expected the ordinance to be approved.
"Because I haven't heard any complaints or problems with Sunday sales, I would say if it takes another ordinance to keep it going, then I would support it," City Commissioner Mike Amyx said.
Mary Torrence, with the state's reviser of statutes office, said the bill did give citizens the chance to force the issue to a citywide vote. A public election would be needed if 5 percent of registered voters signed a petition protesting the Sunday sales ordinance.
Liquor store owners were mixed on whether the Sunday sales provision should be kept. Joe Schmidtberger, owner of Alvin's Wine and Spirits, said Sunday sales had not increased his sales but had boosted his operating expenses by about $300 a week. He said customers, though, probably had grown used to stores being open Sundays.
But Dan Blomgren, owner of Cork & Barrel, said Sunday sales were worth it to him because he had more customers driving up from Ottawa, where Sunday sales are not allowed.
"There doesn't seem to be any determent to the public," Blomgren said. "It is just a matter of convenience, so why wouldn't you want to do it?"
Several Lawrence pastors said they doubted there would be any organized effort from the faith community to end Sunday sales in Lawrence.
"I'm not in favor of selling it on Sunday, but the issue of alcohol use is deeper than whether it is being sold on Sunday or not," said the Rev. Rick Burwick of Clinton Parkway Assembly of God.
-- Kansas University journalism student Janette Crawford contributed to this report.
Copyright 2018 The Lawrence Journal-World. All rights reserved. This material may not be published, broadcast, rewritten or redistributed. We strive to uphold our values for every story published.