Chicago — A federal bankruptcy judge approved United Airlines' plan to terminate its employees' pension plans on Tuesday, clearing the way for the largest corporate-pension default in American history.
The ruling, which carries broad implications for U.S. airlines and their workers, shifts responsibility for United's four defined-benefit plans to the government's pension agency.
That will save cash-strapped United an estimated $645 million a year, part of the $2 billion in annual savings it says it needs to line up enough financing to emerge from Chapter 11 bankruptcy as soon as this fall.
But the cost will be painful to its employees, who stand to lose thousands of dollars annually off their pensions when they are assumed by the Pension Benefit Guaranty Corp.
The PBGC, the government's pension insurer, initially opposed United's plan. But it agreed to drop that resistance last month in exchange for up to $1.5 billion in notes and convertible stock in a reorganized UAL Corp., United's holding company.
United's pensions are underfunded by an estimated $9.8 billion, of which the PBGC would guarantee only about $5 billion. The previous largest U.S. pension default was Bethlehem Steel's $3.6 billion in underfunding in 2002.
Judge Eugene Wedoff said the settlement, while disputed, does not violate any law or United's collective bargaining agreement, and he noted that employees at companies such as United could end up with fewer or even no benefits if no arrangement is made and the company goes broke.
"The least bad of the available choices here has got to be the one that keeps an airline functioning, that keeps employees being paid," Wedoff said.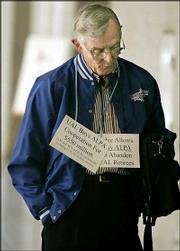 United Chief Financial Officer Jake Brace said the ruling was crucial for United to come out of bankruptcy.
"It's not a good outcome. It's unfortunately a necessary outcome," he said. "This is not in any way a joyous day. It is an important step in our restructuring and in making our airline successful and viable for the long term."
United's effort to dump its pensions has been closely watched by the rest of the airline industry. Tuesday's ruling, following a step taken successfully by US Airways Group Inc. in February, clears the way for similar actions elsewhere.
Copyright 2018 The Associated Press. All rights reserved. This material may not be published, broadcast, rewritten or redistributed. We strive to uphold our values for every story published.