"Dad! Be careful! Don't drop it!"
Arna Hemenway's voice sounded alarmed after I handed my digital camera off to his dad, Kansas University Chancellor Robert Hemenway. But Bob and I both laughed as I walked over to pose next to my daughter, Bonnie.
Her prom dress was red and she looked very elegant against the bright blue sky. I felt a little awkward, but it was fun as Bob snapped a couple of shots.
Bob, his wife, Leah, and I were among the parent paparazzi who were out in force for last Saturday's Lawrence High School prom.
Bonnie and her twin sister, Julie, had met up with their dates, Arna and Nick Hilpman, and a group of other friends at the chancellor's residence.
I shot dozens of photos of my daughters and their friends, which included Lauren Smith, Corey Judson, Martha Penturf, Ian Staples, Kate Tucker and Gardner Burg.
On Sunday morning, I looked over the images on my computer. I realized I would need to make prints.
Out of the computer
"An awful lot of people these days have a lot of digital files, but no prints to show for what they've taken," Gina Weatherman, owner of The Image Works, 711 W. 23rd St., told me.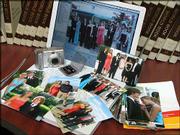 I was one of those people.
I've got lots of digital photos scattered around on computers. But I rarely make prints.
Weatherman explained that it's pretty easy and inexpensive to get prints from digital images at a photo processing shop like hers.
You just bring in the memory card from your digital camera. They also can take the images you have on a CD or a Zip disc. Or you can even e-mail your photos, she said.
At The Image Works, they'll even make you a CD with all the images on it, so you can then erase them from your photo memory card, she said.
She charges 35 cents a picture to print everything on the card, CD or disc. If you pick and choose specific images from the card, CD or disc, the price goes up to 49 cents a print because of the extra handling.
"So we always encourage people to delete off what you don't want," she said.
I checked around town and everyone was charging pretty close to that price.
Some local grocery stores have a Kodak Picture Maker Digital Station. They're fairly easy to use -- you put your photo memory card or CD into the slot, then use the touch screen to tell the computer what you want.
Long-lasting
If you decide to get a digital photo printer and want to make sure your prints don't deteriorate, Weatherman suggests using archival paper and archival inks.
She gave an example: If your basement floods and some prints made with non-archival inks get wet, the colors will run. Your image will look like a watercolor painting with globs of ink.
"People do invest a lot of time and money into their pictures and they want memories that will last forever," she said.
Portable printers
If you're a fan of instant prints -- like Polaroids -- you might like the new small portable printers.
Jerry Landers, a customer service specialist who heads the computer department at Office Depot, 2525 Iowa St., gave me a quick rundown.
He raved about what he called "baby printers," including those made by Hewlett Packer, Canon, Epson and Lexmark.
They run off either AC or batteries, so you can take them along to make prints at soccer games, school plays or even graduation. They hook up to your camera directly or they'll take a photo memory card.
"You can spit out a 4-by-6 in 2 minutes. Right there, it will be in your hand," Landers said.
The small digital photo printers, which make only 4-by-6-inch prints, range in price from about $175 to $200, he said.
"The key brand, or the one I highly recommend, is any HP," Landers said. "I've been selling this stuff for seven years and I base this upon personal experience as well as customer satisfaction -- customer satisfaction being extremely high with the HP line."
Cost-benefit
We talked about the benefits of printing vs. cost.
Landers guessed that the cost of ink cartridges and paper might put the cost of making prints about double the price of what stores will charge.
He explained that you might be able to get about 75 to 100 of the 4-by-6-inch prints from an $80 set of ink cartridges and a 100-sheet package of 4-by-6 paper for $20.
That puts the price at close to $1 per print.
He said that estimate might be a little high because you can change settings on the printer to use less ink and get lesser-quality prints.
If people want to test out a printer, Landers said, they can bring a memory card to the store and he'll print them off a test photo.
Hot items
On Sunday afternoon I was in a hurry to get some prints, so I found a Kodak kiosk at a grocery store and had the clerk help me print all 75 images on my memory card into 4-by-6-inch prints.
I thought they'd be a hit. And I guessed right -- the girls have been showing them off all week.
By mid-week, the envelope with the prints finally made it back home.
I'd already seen the photos on my computer. But actually holding prints seemed different.
"These are my girls ... my baby girls," my wife said wistfully, as we shuffled through them.
Then I ran across the one of Bonnie and me on the balcony. I kind of choked up.
Thanks, Bob. It'll be a keepsake.
Copyright 2018 The Lawrence Journal-World. All rights reserved. This material may not be published, broadcast, rewritten or redistributed. We strive to uphold our values for every story published.