Coach Tracy Bunge and her Kansas University softball players were eager to climb aboard a bus today and head for Wichita.
In the wake of Wednesday's lackluster 7-3 loss to Nebraska at Arrocha Ballpark, the Jayhawks couldn't wait to climb back into the saddle.
"It's a good thing we can come back right away and redeem ourselves," KU shortstop Destiny Frankenstein said.
KU is scheduled to meet Wichita State in a 3 p.m. twinbill today.
"I'm glad we're playing," Bunge said. "It gives us a chance to bounce back. It gives us a chance to prove ourselves again."
Bunge was perplexed about Wednesday's sub-par performance against the Cornhuskers. The pitching was shaky at best, and the hitting was spotty.
Asked if there were any bright spots, Bunge replied: "We had zero errors."
Not that Nebraska needed any help from the Kansas fielders, not with three KU pitchers surrendering six bases on balls and a hit batter. Nebraska's decisive five-run fifth inning was fueled by four of the walks, the hit batter and a wild pitch.
"We just came out flat," Bunge said. "We were very flat. Offensively, we weren't very good, and our pitching ... all those walks. You can't do that against a good team."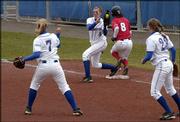 Sophomore right-hander Kassie Humphreys, who shut out Nebraska twice last season, pitched the first four innings and surrendered four runs on four hits -- including a solo homer by NU catcher Jamie Waldecker -- and three walks.
"We started her because we thought it would be a good match-up," Bunge said, "but she's struggled to be as consistent as last year. She made some mistakes and got behind hitters. That's been her M.O. this year."
Humphreys' record leveled at 3-3 and her earned-run average climbed to 3.00, but she did drive in a run in the seventh inning with a pop single to left.
Kansas batters fanned 11 times against Nebraska right-hander Ashley DeBuhr and didn't collect a hit until the fifth inning, when Frankenstein rocketed a DeBuhr pitch over the center-field fence for her team-leading seventh home run.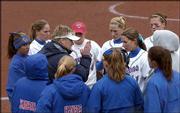 Two batters later, Serena Settlemier slammed her fourth home run to virtually the same area. KU bunched its other three hits in the seventh, when singles by Settlemier, Elle Pottorff and Humphreys netted a too-little, too-late run.
"The most frustrating thing is we didn't come to play," Bunge said. "Today was our second-worst game of the season after the Northwestern game."
Northwestern rocked the Jayhawks, 7-1, in the fourth game last month in Tucson, Ariz.
Kansas (15-11 overall, 0-2 Big 12 Conference) will play host to Texas A&M; at 2 p.m. Saturday and at noon Sunday.
Copyright 2018 The Lawrence Journal-World. All rights reserved. This material may not be published, broadcast, rewritten or redistributed. We strive to uphold our values for every story published.