San Francisco — A Hewlett-Packard Co. director said Wednesday that the board would look to newly named chief executive Mark Hurd to recommend sweeping changes in strategy at the ailing computer and printer maker.
HP director Patricia Dunn, who headed the executive search committee that announced Hurd's appointment Tuesday, said the board would ask Hurd to make major decisions about the company -- including whether to break HP into two or more pieces and how to improve financial performance in all five divisions.
That's a stark contrast to the widely perceived notion that HP's board selected Hurd because he agreed to follow the business strategy of his predecessor, Carly Fiorina. Other published reports have said that Hurd would steer HP in the same direction it has been going for years -- in particular, that he would keep the diversified technology concern intact.
Actively soliciting strategy decisions from the CEO also is a departure from comments of HP directors as recently as last month. On Feb. 9, directors ousted Fiorina, a marketing executive who spearheaded the company's $19 billion acquisition of Compaq Computer Co., saying they didn't have a problem with the business strategy -- only that she didn't execute it quickly enough.
"Strategy is a living, breathing thing, and it's the responsibility of the CEO to recommend strategy, and I'm sure Mark will do that," Dunn said Wednesday during a 20-minute conference call with financial analysts.
Hewlett-Packard shares rose 22 cents to close at $22 Wednesday on the New York Stock Exchange, after rising 10 percent in the previous session. Its shares have traded in a range of $16.08 and $23.75 during the past 52 weeks.
Hurd was a unanimous pick of HP's board of directors and will assume the CEO responsibilities next week, collecting a $2 million signing bonus and an annual salary of $1.4 million.
During the conference call, Hurd refused to provide details about how he would lead HP, insisting that he would spend several months studying the company's operations before making changes.
"I don't know any other way to do it other than to get under every single piece of the business ... and meet every single person I can possibly meet," said Hurd, 48, who has spent the last 25 years at Dayton, Ohio-based NCR Corp.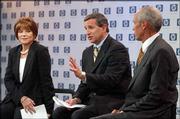 Hurd dismissed speculation that he would follow a business strategy similar to that of NCR, a computer services company that operates ATMs and data warehouses that store countless bits of information from corporate customers.
Before he took the helm of NCR, Hurd was NCR president and chief operating officer and led NCR's lucrative Teradata warehouse division.
Starting in the late '90s, shareholders questioned whether NCR should spin off the unit. Hurd refused. But that decision doesn't mean he'll keep HP in tact, Hurd said.
"It would be wrong for me to try to take the formula I used at NCR and try to use it at HP," he said.
Hurd, who joined NCR out of college 25 years ago, was a surprise choice for the HP job. His hiring came seven weeks after HP's board ousted Fiorina.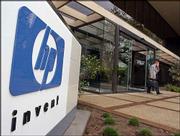 In many ways, the 48-year-old Hurd is what Fiorina wasn't. She was flashy; he avoids the spotlight. Fiorina backed big ideas to boost sales; Hurd is known as a strong day-to-day manager focused on margins.
"The key is that he's an operations guy -- hands-on and a turnaround artist, and he's solid," said analyst Roger Kay, of market researcher IDC. "He's been at NCR for 25 years; he's not in the quick-hit business. Carly always raised suspicions that she was just surfing through, but this guy is completely the opposite."
The selection highlights the difficulties HP faces in running its core computer and printer businesses in the face of relentless competition from rivals such as Dell Inc. HP's sales and profit have languished while Dell's have climbed.
Hurd's hiring marks only the second time in HP's 67-year history that an outsider was chosen to run the company. The first was Fiorina's selection in 1999.
Copyright 2018 The Lawrence Journal-World. All rights reserved. This material may not be published, broadcast, rewritten or redistributed. We strive to uphold our values for every story published.