Fire burned a mobile home being towed out of Lawrence Tuesday afternoon, causing a chain reaction that led to wind-driven grass fires along the South Lawrence Trafficway near Interstate 70 and choking traffic to one lane for several hours.
"We've had a lot of trouble because of that wind," said Jim Kearney, assistant chief of the Kanwaka Township Fire Department.
Firefighters from Clinton and Wakarusa townships were called to assist as wind gusts of around 30 miles per hour spread the fire along the east side of the highway for at least a quarter mile.
The fire began shortly after noon when a tire blew on a trailer Roger Wilks said he was using to tow a mobile home to his salvage yard near Perry. Wilks was northbound on the bypass about half a mile from I-70 when he pulled his truck and trailer to the side of the road. He said a co-worker following him in another vehicle had alerted him to the fire beneath the trailer, possibly caused by sparks when the tire blew, he said.
The fire quickly spread into the mobile home and the grass, Wilks said.
"I expended four fire extinguishers trying to put it out," he said.
Then Wilks disconnected his truck and drove it a short distance up the highway away from the flames.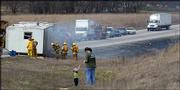 Douglas County Sheriff's officers responded and directed traffic after limiting it to one lane. A Kansas Highway Patrol trooper and a motor carrier inspection officer also responded.
"They're over there writing me up a big one," Wilks said, as he sat in his truck. "I'm not happy about it."
Wilks was cited for several misdemeanor traffic violations, including operation of an unsafe vehicle, improper permits, having a suspended driver's license and lack of insurance, said Trooper Edna Buttler.
The mobile home was one of several Wilks had been removing from 1045 E. 23rd St. The mobile home court is being cleared out by owner Larry Midyett, owner of Lawrence's Century 21 Miller Midyett Real Estate. He told the Journal-World earlier this year that he planned to put an office building and duplexes at the site.
Copyright 2018 The Lawrence Journal-World. All rights reserved. This material may not be published, broadcast, rewritten or redistributed. We strive to uphold our values for every story published.