San Jose, Calif. — Sony Corp. has been ordered to pay $90.7 million and halt U.S. sales of PlayStation consoles for infringing on the patents of a company that develops and licenses touch-feedback technology to enhance video game realism.
The trial judge granted a stay on the sales ban, however, pending Sony's expected appeal.
San Jose, Calif.-based Immersion Corp. sued Sony in 2002, claiming it violated two of its patents. A federal jury in Oakland decided in favor of Immersion in September and ordered Sony to pay $82 million in damages. On Thursday, U.S. District Judge Claudia Wilken affirmed the decision -- tacking on $8.7 million in interest.
Wilken also granted a permanent injunction that would bar the manufacture, sale or import into the United States of any PlayStations, controllers and games that infringe on the two Immersion patents. Sony already has paid Immersion $7 million in compulsory license payments ordered by the court and will continue to do so each quarter, based on sales of infringing products, until there is a reversal or settlement.
A Tokyo-based Sony official, speaking on condition of anonymity, said the company planned to appeal. He declined to give more details.
Victor Viegas, Immersion chief executive, said, "We have always believed, and continue to believe, in the strength of our intellectual property. We remain confident of our position in the appeals process."
Immersion was given far less than the $299 million it sought in the suit against Sony Computer Entertainment and Sony Computer Entertainment America.
Immersion claimed Sony's PlayStation products infringed on patents related to "vibro-tactile" technologies that simulate the sense of touch in video game play. The suit specifically names the PlayStation consoles, Dual Shock controllers and 47 games.
In news releases last year, Sony claimed to have sold more than 27 million PlayStation2 consoles in the United States, making it the No. 1 video game machine. Last week, Sony launched a portable version, though Viegas said the new device did not appear to infringe on Immersion patents.
In 2003, Immersion settled another patent dispute with Microsoft Corp., the maker of the Xbox video game console. In the settlement, the software giant paid $26 million, including $6 million for a roughly 10 percent stake in the company.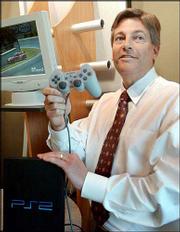 Copyright 2018 The Associated Press. All rights reserved. This material may not be published, broadcast, rewritten or redistributed. We strive to uphold our values for every story published.