A Lawrence hotel is checking out of its Ramada Inn franchise.
Lawrence-based Hiral Corp. is switching its hotel at 2222 W. Sixth St. into an Econo Lodge. The $200,000 conversion project -- including new bathroom tile, sinks and other fixtures -- is expected to be finished within a month.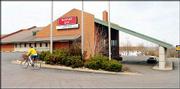 The 110-room hotel opened in 1972 as a Ramada Inn and has flown the franchise tag for all but a few years during the mid-1990s, when it was a University Inn.
Nick Bhakta, president of Hiral Corp., said that the switch should help draw more business. He expects the hotel's average daily occupancy to be 50 percent to 55 percent, up from the 30 percent to 38 percent that it has been drawing.
The switch comes after a number of other Lawrence hotels recently have changed franchises, including Days Inn to Best Western; TraveLodge to Quality Inn; and Super 8 Motel to Golden Rule Motel. Lawrence Hotel became a Baymont Inn & Suites back in 2002.
"Maybe there's not enough business in town," said Bhakta, who also owns Bismarck Inn in North Lawrence and a USA Inn in Hastings, Neb. "People change the scenery and hope the hotel business will come out of the hole."
Switching from the Cendant Corp. franchise to a Choice Hotels International Inc. brand will be effectively seamless, said Mike Tatro, the hotel's general manager. The same 20 to 30 full- and part-time employees will remain on staff, the hotel's banquet rooms will remain available, and Duffy's Lounge will continue to operate.
Copyright 2018 The Lawrence Journal-World. All rights reserved. This material may not be published, broadcast, rewritten or redistributed. We strive to uphold our values for every story published.