Every little bit helps as Bonnie Henrickson tries to rebuild women's basketball at Kansas University.
Thus, when KU signee Shaquina Mosley was named junior-college player of the year Wednesday, Henrickson was as delighted for Mosley as she was with the positive publicity it provided her program.
"I'm thrilled for Shaq," Henrickson said, "and I'm real excited for our team. I feel like she can come in and play point guard, and we can put Erica (Hallman) on a wing."
Hallman earned all-Big 12 Conference honorable mention while playing point guard for the Jayhawks as a junior last season, but the 5-foot-8 Hallman isn't a true point guard. Mosley is.
A 5-6 native of Lancaster, Calif., Mosley was named co-player of the year in her junior-college conference, leading the league in assists (8.2) and shooting percentage (.608). Mosley played a large role in helping Central Arizona CC take a 27-game winning streak into this week's NJCAA Tournament at Salina's Bicentennial Center.
Mosley was named juco player of the year by the Women's Basketball Coaches Assn., which also tapped her a Kodak All-American.
"Shaquina has had an outstanding collegiate career thus far," said Beth Bass, head of the WBCA. "We wish her continued success next year at (KU)."
Mosley averaged 15.2 points, 6.6 assists and 3.7 steals per game as a freshman, earning all-league honors and making the NJCAA All-Tournament team.
Scouting in Salina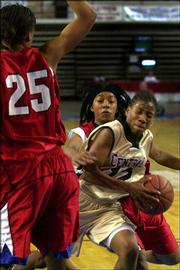 Henrickson has been in Salina watching Mosley perform. She also is scouting other potential signees.
Henrickson, who came to KU after seven seasons at Virginia Tech, guided the Jayhawks to a 12-16 record during her first season on Mount Oread despite having just nine scholarship players. Two of the nine -- Aquanita Burras and Blair Waltz -- completed their eligibility earlier this month.
Henrickson signed four players in November, including Mosley, and still has three grants available.
"We hope to sign two more," Henrickson said. "We're looking at adding a junior-college player and possibly a foreign player. We've been looking overseas, too."
Mosley was Henrickson's lone juco signee in November. The other three are high school seniors.
Sophronia Sallard, a 5-10 forward from Syracuse, N.Y., appears to be the prep product most likely to make an immediate impact. Sallard led Nottingham High to New York's Class AA championship this month.
In the championship game against White Plains, the score was deadlocked at 38-all when Sallard stole a pass and drilled a game-winning 17-foot jump shot at the buzzer. Later, Sallard led Nottingham with 18 points as it fell to a New York City powerhouse in a federation game.
Sallard has been described by Henrickson as "a very explosive player who passes the ball well, but can still challenge one-on-one with her good mid-range and outside shooting ability."
Competitor, project
Henrickson's other high school signees are Ivana Cutic, a 5-foot-8 guard from Mt. deChantal Academy, a prep school near Wheeling, W. Va., and Jennifer Orgas, a 6-2 center from Omaha (Neb.) Skutt High.
Cutic is a native of Serbia whom Henrickson described as "an unbelievable competitor." Orgas has size and, Henrickson said, "a tremendous upside" but is regarded as a project.
On paper, Henrickson will have four returning starters in Hallman, Crystal Kemp and Kaylee Brown -- all seniors -- and sophomore Taylor McIntosh, but only Hallman (13.1) and Kemp (13.8) posted scoring averages in double figures as the Jayhawks finished last in the Big 12 in average points per game (58.0).
Brown averaged 8.9 ppg, but shot only 34 percent from the field. McIntosh averaged more rebounds (6.5) than points (5.0).
Mosley will receive her award at the WBCA convention conducted during the Women's NCAA Final Four in Indianapolis.
In good company
Henrickson will be feted, too. Earlier, the WBCA selected the KU coach as recipient of the Carol Eckman Award.
That award, named after the former West Chester State coach who is regarded as the mother of the women's collegiate basketball championship, goes annually to an active WBCA coach who exemplifies Eckman's spirit, character and dedication.
Former KU coach Marian Washington was the 1991 Eckman Award winner. Other former winners include Jody Conradt of Texas, Marsha Sharp of Texas Tech and former Colorado coach Ceal Barry.
Henrickson, incidentally, is a member of the WBCA Board of Directors. She served as secretary during the 2004-2005 season.
Copyright 2018 The Lawrence Journal-World. All rights reserved. This material may not be published, broadcast, rewritten or redistributed. We strive to uphold our values for every story published.