When junior outfielder Matt Baty hit the first pitch in the bottom of the ninth inning just foul over the left-field wall, almost everyone at Hoglund Ballpark could sense what was coming
The Jayhawks (19-8) were locked in a 5-5 game with Western Illinois (4-16), and Baty's long foul ball was the first pitch thrown by Leatherneck reliever Corey Ferger, who replaced Pat Kohorst after eight solid innings.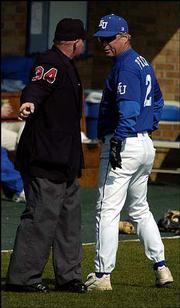 Baty was retired moments later, but the next batter, junior shortstop Ritchie Price, reached on an error. A.J. Van Slyke singled, then junior outfielder Gus Milner found his pitch, a high change-up, and poked it into left field. After Price scored, Milner was greeted by a rush of teammates.
"I was just hoping to get enough barrel on it to put it past the infielders," Milner said of his walk-off single, which gave KU a 6-5 victory. "I think in high school I had a walk-off bomb or something. But it feels pretty good at the Division One level, that's for sure."
The Jayhawks couldn't find a groove until the fifth inning. Trailing 3-1, seniors Mike Dudley and Travis Dunlap hit back-to-back doubles, both of which Western center fielder T.J. Kistner failed to grab on diving attempts. The two-run inning tied that game, and the Jayhawks took a 4-3 edge in the sixth when senior catcher Sean Richardson lifted his third home run of the season.
Western took a 5-4 lead in the seventh inning off of KU reliever Don Czyz, but he worked out of a bases-loaded jam. Czyz recovered beautifully, retiring the final eight batters he faced in his three innings of work.
"He's been our best guy," KU coach Ritch Price said of Czyz. "One of the things we plan to do with him is if we have a lead late, we plan to go with him in the eighth and ninth, not just using him one inning. We think he's our best guy, and, if we have the lead, we're gonna make the other team beat our best guy at the end of the ballgame."
Getting out of tough situations was a theme all day for the Jayhawks.
After loading the bases with no one out to start the fifth, starter Sean Land got out of the inning by surrendering just one run.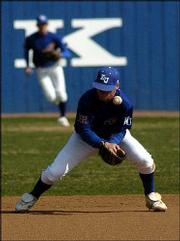 The effort was helped by superb defense from Ritchie Price. Price, who has committed an uncharacteristic 11 errors this season, made two dazzling plays at shortstop. On both plays, he scooped hot grounders while sprinting towards second base, spun and threw darts to retire both batters.
"That's the first time in his life I've ever seen him struggle with the glove has been these last three weeks," coach Price said.
Price also nailed a clutch RBI double down the right-field line in the eighth, which also helped set things up for the ninth-inning dramatics.
KU will try for its second consecutive series sweep at 1 p.m. today at Hoglund.
Copyright 2018 The Lawrence Journal-World. All rights reserved. This material may not be published, broadcast, rewritten or redistributed. We strive to uphold our values for every story published.