Kansas City, Mo. — Matt Christopher is used to cleaning up dinosaur bones in a room he calls "the pit."
The room, in Kansas University's Dyche Hall, is dingy and poorly lit.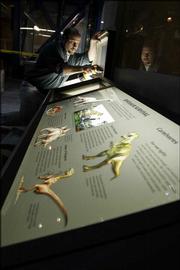 So it's easy to see why Christopher is excited about a new $1 million preparation lab at Science City, where he'll lead a team of volunteers in assembling Lyle, a 144-million-year-old camarasaurus.
"This facility was built specifically for us," said Christopher, a KU graduate student in paleontology. "This is a giant dinosaur factory, which is what KU needs."
The Dino Lab, as it has been named, opens to the public today at Science City inside Union Station. Museum officials are banking on the partnership with KU to help energize the museum, which has seen attendance drop since it opened in 1999.
"It's going to be our first permanent exhibit," spokeswoman Sarah Biles said. "We found the dig site (a paleontology exhibit for children) was extremely popular, as was the traveling exhibit 'A T-Rex named Sue.' We know dinosaurs are a big thing."
The centerpiece of the 1,700-square-foot exhibit will be the preparation lab, a glass-encased facility where Christopher and volunteers will prepare Lyle. KU paleontologists dug up the 65-foot-long dinosaur in 1997 from an excavation site in Wyoming.
Visitors can ask Christopher, the lab director, questions through a microphone that will connect to a wireless headset he'll wear while preparing the bones.
The exhibit also will include giant dinosaur puzzles, interactive dinosaur information and a plasma screen of the Wyoming dig site.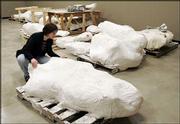 "We wanted to add the component of more research at Science City," Biles said, "and something that appeals to a wide audience, from young kids to older adults."
Christopher said he expected it would take two years to mount Lyle, whose ultimate destination is undetermined. When that work is finished, crews will create a replica for permanent exhibit at Science City. Annabelle -- another camarasaurus found by KU in Wyoming -- also may be moved to exhibit there. It previously has been on display at the KU Natural History Museum in Lawrence.
When Lyle is done, Christopher said volunteers likely would begin preparing a mammoth found last year near Grain Valley, Mo.
Christopher said he wasn't concerned the public preparation site would be a distraction for those working on the bones. Rather, he said the Dino Lab would be a good outreach component for the Natural History Museum.
"We hope it'll impress people," Christopher said.
Copyright 2018 The Lawrence Journal-World. All rights reserved. This material may not be published, broadcast, rewritten or redistributed. We strive to uphold our values for every story published.