Lovers of fresh fruit and vegetables may need to change their Saturday morning plans in 2006.
Organizers of the Lawrence Farmers Market have renewed a push to move to New Hampshire Street to provide more customer parking and more vendor space for the growing market. The market currently is in the city parking lot in the 1000 block of Vermont Street.
"We hear a lot from customers who feel like they had to park so far away and it is hard for them to carry what they've bought back to their cars," said Jill Elmers, a vegetable vendor at the market. "It really limits what people will buy."
Farmers Market organizers told a city task force Thursday they would like the City Commission to allow the Saturday market to move into an 86-spot, city-owned parking lot on the west side of the 800 block of New Hampshire Street. The Tuesday and Thursday markets would remain at the current Vermont Street location.
None of the changes, if approved by city commissioners, would take place until Spring 2006.
John Pendleton, a vendor and market organizer, said the new location would allow the market to add 20 vendors, allowing upwards of 90 vendors to sell at the market at any one time.
But better parking may be the biggest benefit of a move, Pendleton said. Directly across New Hampshire Street is a 111-space city parking lot that customers could use. The proposed location also is adjacent to a cut-through in the middle of the 800 block that would make it easier for people parking on Massachusetts Street to get to the market. The proposed location also is one block away from the 510-space, city-owned parking garage in the 900 block of New Hampshire Street.
At the Vermont Street location there are about 85 city-owned parking spaces within a block of the market.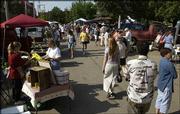 "At our current location, we're out of room for vendors, but I think most vendors would tell you the biggest problem is we're out of room for customers," Pendleton said. "This could really help with our parking."
The plan unveiled Thursday is different than previous proposals by market organizers. Previously there had been talk about the market moving all its operations to New Hampshire Street.
But several businesses in the area said the market, particularly on Tuesdays and Thursdays, would take away too much parking from downtown employees. Pendleton said that is why the organizers now are proposing to move only the Saturday market.
Bigger future?
Kelvin Heck -- a broker with Grubb & Ellis/Winbury Group, which also has an office near the parking lot -- said a Saturday-only market should alleviate the concerns of some businesses.
"I like the plan, but if you start talking about Tuesday and Thursday markets using that lot then that could be a problem," Heck said. "There are a lot of office users down there that use those lots."
Market organizers have not yet approached Downtown Lawrence Inc. to determine if retailers would be concerned about the loss of Saturday morning parking spaces. Maria Martin, executive director of Downtown Lawrence Inc., said her group would listen with interest.
"Parking is a big concern for everybody because there's just such a scarcity of it," Martin said. "This seems like a situation that could be workable. Everybody just needs to get to the table and talk about it."
The Lawrence Farmers Market will open for its 30th season on April 30, two weeks earlier than its traditional start date.Organizers said they moved the start date up after researching the opening dates of other farmers markets.The market again will operate Tuesdays, Thursdays and Saturdays. On Tuesdays and Thursdays, events run from 4 p.m. to 6:30 p.m. The Saturday market is open from 6:30 a.m. to 10:30 a.m.
The proposed move would not address all the issues that market organizers have previously raised. They have also asked for covered stalls, permanent restroom facilities and perhaps an area for cooking demonstrations. Pendleton said the group still had those hopes, so the proposed new location may not be adequate for the long term.
"In our biggest dreams, this may not be our last move," Pendleton said.
Copyright 2018 The Lawrence Journal-World. All rights reserved. This material may not be published, broadcast, rewritten or redistributed. We strive to uphold our values for every story published.