Lahaina, Hawaii — Living in Hawaii, I often take for granted the year-round sunny weather, stunning scenery and oversized visitors who travel thousands of miles across the ocean every winter to relax, swim and mate.
So recently, I grabbed my binoculars and headed out in hopes of catching a glimpse of these blubbery specimens in action. And I'm not talking about tourists.
An estimated 4,000 to 5,000 endangered humpback whales -- about two-thirds of the North Pacific stock -- leave their frigid feeding grounds off Alaska to spend a few months in the warm Hawaiian waters every year to breed and calve. The whales can be spotted from the shores of every Hawaiian island, but a whale-watching boat tour from Maui gave me an up-close look and a true appreciation of these majestic mammals.
The hub of humpback activity in Hawaii is in the shallow, temperate waters between the western coastline of Maui and the islands of Lanai and Kahoolawe.
There are dozens of whale-watching tours to choose among. I went with Eco-Adventures, which has 15 daily cruises from two harbors and is operated by the nonprofit Pacific Whale Foundation. Like other operators, they guarantee a whale-sighting or you get to take another cruise free.
My $30 two-hour voyage began at Lahaina Harbor aboard the 65-foot Ocean Quest, a double-deck, open-air catamaran. I scrambled with the rest of the crowd for one of the prime seats on the top deck. But it really didn't matter where we sat, because everyone was soon on their feet.
Childlike enthusiasm
As we chugged out to sea, the friendly and knowledgeable crew gave us details about humpback whales: The females are slightly larger than the males and the whales can grow up to 45 feet in length and weigh more than 40 tons.
Within the first 20 minutes of our tour, we saw a pod spouting in the distance, shooting a puff of mist into the air. It reminded me of a geyser or the Halona Blow Hole on Oahu where water shoots through a lava tube into the air.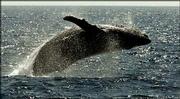 Our guide told us humpback whales usually take a breath about every 10 to 15 minutes, but can remain submerged for as long as 50 minutes.
Grown men and women were instantly transformed into 7-year-olds as they excitedly scurried to the boat's port side jostling for position. With school in session, there were only a couple of real kids onboard.
"Oooohhh," everyone said in unison.
Another small pod appeared a couple hundred yards behind us and to the starboard side as passengers started shifting around, pointing and clicking their cameras.
It's hard not to be impressed watching these giant mammals as they party in the Pacific. They poke their bumpy, torpedo-shaped heads out of the water, roll around and slap their long flippers, which resemble airplane wings.
They're called humpbacks because when they prepare for a deep dive, they bend their backs, point their noses down and gracefully raise their tail flukes above water. The arching of their backs gives the whales a humpback appearance.
Two-hour Eco-Adventures cruises sponsored by the Pacific Whale Foundation sail 15 times daily between Dec. 1 and May 15, departing from Lahaina and Ma'alaea harbors in Maui.For more information, go to www.pacificwhale.org/adventures/whalewatch.html or call (800) WHALE-11.Adults are $19.95 or $29.95, depending on time of cruise; children ages 7 to 12 are $15. Each paying adult may bring one child 6 or under free.If you don't see a whale during your cruise, you get a free ticket for another trip.
Humpbacks are mostly black or dark gray and have white markings on their sides, underside and tail fluke. They all looked similar to me, except some were big and others were bigger. They are the fifth-largest of the great whales. The unique markings on their tail flukes are like human fingerprints and can be used to identify them.
You think your kid eats a lot? Humpback calves, which weigh about 3,000 pounds at birth, consume about 100 to 130 gallons of milk per day. The milk is highly concentrated in fat.
A spectacular show
Whale season in Hawaii generally runs from December through mid-May, peaking in January and February.
Skipper Mike Estes, of Juneau, Alaska, who also apparently heads south for the winter, navigated us around the waters and seemed to have a natural knack for knowing where the whales hang out. He would turn off the engine every time we neared some whales.
A federal law requires watercraft to stay 100 yards from humpback whales, but it's all right when whales swim closer. And they sometimes did.
It takes the humpbacks a little more than a month to get from Alaska to Hawaii. How they manage to travel up to 3,500 miles and find their way to the islands and back to Alaska every year is an unknown phenomenon.
As we slowly made our way back to Lahaina, we found a couple of whales jumping out of the water, or what they call "breaching."
These giants powerfully lunge into the air, twist and come crashing down, creating a major splash. With the Beatles and Bob Marley playing in the background, they continued for 15 minutes, providing us with a spectacular show.
The passengers cheered with every jump. The bigger the splash, the louder the cheers.
"It was incredible. It was above and beyond what I expected," said Danny Forsee, 47, of Dallas. "I would go back in a heartbeat."
His wife, Liz, said she learned a lot about whales from the trip.
"We got a good show today," she said. "I liked the breaching. That was pretty awesome."
The humpback performance delayed our return, but it was a fitting and perfect grand finale.
Copyright 2018 The Associated Press. All rights reserved. This material may not be published, broadcast, rewritten or redistributed. We strive to uphold our values for every story published.