As special as Wednesday night was to the seniors on Kansas University men's basketball team, the evening was downright magical for an Osawatomie woman and her two children who had never been to a KU game before -- let alone to an intrastate rivalry as Allen Fieldhouse turns 50.
Keira Welter, who has garnered attention for her fight to save her home from foreclosure while her husband serves in Iraq, was treated to seats at the KU-Kansas State game by Hal Wagner, the owner of Ace Sports & Tickets stores in Lawrence and Overland Park.
"This is something Steve and I could never have been able to do for them," Keira said, speaking of her children.
Battle on two fronts
While Lawrence firefighter and Army reservist Steve Welter has been serving his country in Iraq since August, his wife, Keira, has been fighting a war of her own to protect their home. Wednesday, however, it appeared that Wells Fargo Home Mortgage Co. had finally backed down.
"It wasn't a big deal. I just stood up to someone who was being naughty to me," Keira said.
Boy, did she.
Wells Fargo came under fire after the Welters' dispute with the mortgage company was featured earlier this week on Kansas City, Mo., television station KMBC Channel 9. Shortly after the story aired, Keira began receiving calls of support from politicians, including Sen. Pat Roberts, R-Kan., Rep. Dennis Moore, D-Kan., the Kansas Attorney General's Office and even some politicians she didn't know from other states.
But most importantly, Keira heard from top Wells Fargo officials who said they would back off the foreclosure process and that it was all a mistake. Before the publicity, the foreclosure papers had already been sent to court, Keira said.
"I do not have papers in my hand saying this has been dismissed in court, so it's hard to trust a company where so many people have been untrustworthy."
The foreclosure process shouldn't have proceeded to begin with, Keira said. She noted the Soldiers' and Sailors' Civil Relief Act prevents foreclosure or seizure of property during a period of military service.
Keira thinks she and her husband could win a hefty sum if they were to turn around and sue Wells Fargo, but that's not the answer, she said.
"Millions of dollars would help me and my family, but that doesn't help other spouses who are in the exact same position I was in," she said. "I want the company to spend the money I would have won to revamp the company."
Keira would like to see a complaint call line set up. She also thinks the federal government should aggressively audit mortgage company practices.
"Why don't we have financial laws followed the same way we have civilian laws followed?" Keira said.
Game for a good time
Keira's actions also have attracted the attention and applause from friends, the Osawatomie community, and Wagner, the owner of Ace Sports & Tickets. Wagner had his attorney work with Keira to see that her legal rights would be protected from the mortgage company. Wednesday night he also took Keira and two of her children -- daughter Salyn, 7, and son Addison, 5 -- to the game to watch seniors Wayne Simien, Aaron Miles, Michael Lee and Keith Langford play their last game at Allen Fieldhouse. A second daughter, Kyrsha, 10, was unable to attend because of illness.
"She had some problems and I just wanted to help her out," Wagner said of Keira's plight.
Her husband planned to watch the game on satellite TV in Iraq, despite a nine-hour time difference that would have him watching it during the early-morning hours. His family hoped to attract the attention of a TV camera and maybe wave to Steve.
"I'm really excited to not necessarily have physical contact but at least you have that little bit of emotional contact," Keira said. "Maybe he can see the kids and maybe see myself. It's mainly that he can see the kids."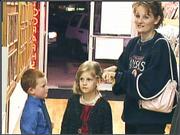 The troubles with the mortgage company had taken a toll on him, as well, Keira said.
"Here he is, over in another country, unable to support us, fighting for the freedom of the next generation, and the freedom of his own children was being taken away at home," Keira said. "He was devastated."
Steve Welter has been a Lawrence firefighter and emergency medical technician since 1997. He was chosen by the firefighter's union as firefighter of the year for 2002. He also started the fire department's honor guard.
This week, Keira phone's conversations with her husband have been more pleasant.
"He's amazed at how things are going," Keira said. "He's very proud, but I would not be the person I am if not for him. We're definitely a team"
About 100 Kansas University students were evacuated from Allen Fieldhouse Wednesday afternoon when smoke filled the building about 4 p.m.The smoke came from a mobile concessions warmer, which was wheeled outside, according to observers.Plastic bags of potato chips in a plastic case, which were stored inside the food warmer, caught on fire when the machine was turned on to get ready for the KU-Kansas State game, said Capt. Schuyler Bailey, a KU Police spokesman.Students were waiting in line to get seats for the game. Athletic department officials told them to leave, and they returned later.The game tipped off as scheduled at 8:05 p.m.
Copyright 2018 The Lawrence Journal-World. All rights reserved. This material may not be published, broadcast, rewritten or redistributed. We strive to uphold our values for every story published.