Kansas University's basketball players will wear old-fashioned jerseys during Wednesday's game against Kansas State.
It's a game that will mark the 50th anniversary of the first game in Allen Fieldhouse -- a 77-66 victory over K-State on March 1, 1955.
KSU's players have elected not to wear old-style jerseys.
"I don't know if they are 'throwback.' It's a little bit different look, not a lot," KU coach Bill Self said Monday. "There will not be the short shorts. It's modernized throwback jerseys."
KU officials will not allow photographs of the jerseys prior to the game, keeping it as a surprise for the fans.
Self said the uniforms were white but would provide no further details.
Self is looking forward to speeches from seniors Michael Lee, Wayne Simien, Aaron Miles and Keith Langford after Wednesday's 8 p.m. game.
"These guys deserve it to be an emotional day," he said of the group with a 108-25 record, two Big 12 Conference titles and two Final Four appearances. "This will be a day they'll remember the rest of their lives."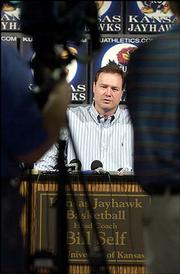 Self joked about the past length of the speeches.
"You could put a time limit on everybody," Self said. "To make it easier on you guys (media), we'll try to do that Wednesday. We're concerned about you guys meeting deadlines."
Self said Lee would start in place of J.R. Giddens on Senior Night. Christian Moody will be the fifth starter.
Self reported all four seniors would graduate in May, as well as Jeff Hawkins, a junior who took a red-shirt his freshman season. Hawkins will continue his education next year while playing his final season at KU.
Elbow brace worn: Keith Langford has been wearing a brace in practice to protect the left elbow he hyperextended Feb. 12 against Colorado.
"The only time he takes his brace off is to play in a game. We're not talking about a little brace. We're talking about a big metal brace you have to tape up so it doesn't hurt people," Self said on his Hawk Talk radio show.
"He did some damage to his arm. It's getting better. I really feel it's contributed to his shooting (inconsistency of late) as much as anything else. It's hurt him on his extension. Every time he shoots, it hurts."
It has been rumored Langford may have torn a muscle in his arm. Why doesn't he discuss injuries in depth?
"Because it's not an issue," Langford said. "If I'm playing and mess up I can't go back and say this was hurting me. I've had a lot of things go wrong, most notably my knee situation (last year's offseason surgery)."
Of his elbow, he shrugged: "It bothers me enough. I can still play and be effective."
Simien honored: Simien on Monday was named Big 12 player of the week for the third time this season and fifth time in his career.
Phones back: The Jayhawks, who had their cell phones confiscated late last week so they could concentrate on Oklahoma State, have their phones back.
"I'm sure they've got a lot of voice mails," Self said.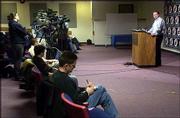 Ex-coach dials: Miles said Roy Williams surprised him with a phone call on Christmas Day.
"He said, 'I remember when you were a little puppy. Now you're the big dog,''' Miles said of the coach who signed him and left for North Carolina two years ago. "I'm grateful to coach Williams, too. He recruited me and gave me the opportunity to play here. I'm thankful to all coaches I've played for."
Scrap: KU's Hawkins and Oklahoma State's JamesOn Curry were tangled on the floor as the horn sounded in Sunday's KU victory over the Cowboys.
"I boxed him out hard," Hawkins said. "I didn't want them getting any rebounds (of last-second shot by John Lucas). We got tangled and fell. I think he kicked me in the head. I was so happy we won I didn't care. I got up and ran out of there."
Replay: Sunflower Broadband Cable channel six will show a replay of the KU-Oklahoma State game at 10:30 p.m. tonight.
Copyright 2018 The Lawrence Journal-World. All rights reserved. This material may not be published, broadcast, rewritten or redistributed. We strive to uphold our values for every story published.