Port-au-Prince, Haiti — Supporters of ousted President Jean-Bertrand Aristide marked the anniversary of his fall with a protest Monday that was aborted after police opened fire and two people were killed -- another bleak reminder of a year filled with disaster and disappointment.
Since former soldiers led a rebellion that pushed Aristide from power on Feb. 29, most Haitians are still jobless, and investment is scant. Many still mourn for more than 3,000 people who died in floods last year.
"Life only gets worse," said Lelene Derivalle in Cite Soleil, a seaside slum that helped Aristide rise to power 15 years ago. "We have no work, we have no food, and today I don't even have a few gourdes to buy water."
At the protest, police fired into 2,000 Aristide supporters. At least two people were killed and about 10 people were wounded.
Still, the U.S.-backed interim government says the country is better off today than under Aristide, accused of corruption and mismanagement.
"We have established order in the country's finances with good governance to the point that today we have reserves to start a good job creation program," interim Prime Minister Gerard Latortue told The Associated Press on Monday during a telephone interview. "We are building new roads and now we must get ready for the elections."
Whether the country will be stable enough for elections in October and November remains to be seen as tensions grow between the government, disgruntled former soldiers who helped oust Aristide, a depleted police force, armed gangs loyal to Aristide and U.N. peacekeepers.
Groups have been calling for Latortue's resignation since Feb. 19, when nearly 500 of the 1,250 prisoners escaped from the National Penitentiary after a handful of armed men opened fire and threatened guards.
"This government can't provide security so there's no way it can continue," said Prince Pierre Sonson, leader of the opposition Democratic Haitian Reform Movement party.
Before the shooting Monday, demonstrators shouted slogans against President Bush, whom Aristide and his supporters blame for his ouster. U.S. officials say Aristide left voluntarily. He is now in exile in South Africa.
Once the richest colony in the Americas, Haiti has been kept in poverty by a series of corrupt dictators since 1804, when the only successful slave rebellion forced out French colonizers.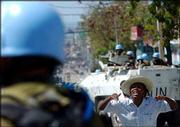 Copyright 2018 The Associated Press. All rights reserved. This material may not be published, broadcast, rewritten or redistributed. We strive to uphold our values for every story published.