Washington — Skyrocketing housing prices are driving people from San Francisco, Boston and other big cities. Warm weather and more affordable living are behind the rapid growth in midsize cities in Florida, Arizona, Nevada and California.
Census Bureau figures being released today show no letup in the migration to the South and West, which are home to all 10 of the fastest-growing cities with at least 100,000 people.
The Phoenix suburb of Gilbert, Ariz., topped the list. The city grew by more than 46,000 people, or 42 percent, to just over 156,000 residents in a little over four years.
Next on the list ranked by percentage gain was Miramar, Fla., followed by North Las Vegas, Nev.; Port St. Lucie, Fla.; and Roseville, Calif. Rounding out the top 10 were Henderson, Nev.; Chandler, Ariz.; Cape Coral, Fla.; and Rancho Cucamonga and Irvine, both in California.
San Francisco and Boston found themselves among the cities losing the most people between April 2000 and July 2004. Boston, for example, shed more than 19,000 people, or 3.4 percent of its population. San Francisco lost 32,000, or 4.2 percent.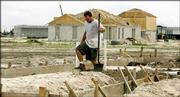 "People like to live in smaller places, and a lot of it's propelled by the sharp spike in housing costs in the inner and more attractive cities," said William H. Frey, a demographer at the Brookings Institution in Washington. "People want to get as much housing as they can for their dollars."
The median price for a single-family home in Gilbert is around $220,000, compared with more than $387,000 in Boston and $641,000 in San Francisco.
Peter Ragone, a spokesman for San Francisco Mayor Gavin Newsom, said the city recognizes the problem and has begun a number of affordable housing initiatives, such as redevelopment projects aimed at producing more moderately priced homes.
Greg Svelund, city spokesman in Gilbert, said many new residents are coming from higher-priced communities in California.
Copyright 2018 The Associated Press. All rights reserved. This material may not be published, broadcast, rewritten or redistributed. We strive to uphold our values for every story published.