Wichita — A Wichita man who received the nation's third-highest award for valor is looking forward to a career that allows him to do something for the community.
"I want to give something back," said Cpl. Jason Lilley, who was awarded the Silver Star on Friday for saving six fellow Marines during an ambush in Iraq.
Lilley, who enlisted in the Marine Corps in 2004 and served two tours in Iraq, was recently discharged from active duty. Now he's considering a possible career as a Wichita firefighter or police officer.
More than 125 people attended the ceremony at Veterans Memorial Park to see Lilley receive the Silver Star for his actions on April 7, 2004, when his unit was ambushed by 60 Iraqi insurgents in fortified positions.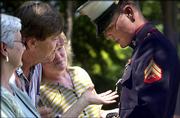 Lilley and several other Marines ignored heavy fire to cross a shallow canal and go up an earthen berm. Lilley killed five of the enemy and covered the withdrawal of other Marines, saving the lives of six of them.
His mother, Janis South, recalled Friday that when her son was in Iraq he never told her much about what he was going through, but she recognized the names of Marines from his unit in casualty lists.
South, a teacher, said "it was very, very hard to get up in front of the kids and be happy and act like everything was great. I'd go somewhere quiet and fall apart for a while, and then pull myself together and do it again."
After the ceremony, Lilley talked to other Marines, veterans of several wars.
He thinks frequently about the ambush and his friends who are still in Iraq, and he feels lucky to be alive.
"Anybody who tells you they were in combat and weren't scared is lying," Lilley said. "Every day, every one of us was scared."
Lilley said he became a Marine to be part of something special.
"I knew that the day would come when they would ask something of me," he said.
Copyright 2018 The Associated Press. All rights reserved. This material may not be published, broadcast, rewritten or redistributed. We strive to uphold our values for every story published.