Jake Mumford sat at a picnic table among friends Saturday in Burcham Park, taking in the music and watching adults and children enjoying themselves during the Juneteenth Family Fun Festival.
"I think it's a wonderful thing," said Mumford, who grew up in Lawrence in the 1960s and who now lives in Wichita. "This is a testimony to how Lawrence has developed and changed over the years. There was a time when this (black history) wasn't talked about."
No more. The family festival concluded a week of Juneteenth activities that included oral history presentations, tours of area Underground Railroad sites, lessons about the meaning of Juneteenth at the Boys & Girls Club of Lawrence, and plenty of games.
It was the second year in a row for a Juneteenth celebration in Lawrence. The event commemorates June 19, 1865, the date when the last slaves in America were notified of their freedom in Texas, more than two years after President Abraham Lincoln issued the Emancipation Proclamation.
Many of the older youths who were at Burcham Park said they were aware of the importance of Juneteenth, including Janae Colter, 15, of Lawrence.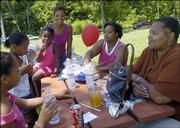 "Not all of the little kids know, but they are learning," she said. "I think it's been fun here."
The fun festival began in the morning and lasted all day. Food vendors set up shop, as did about 20 other vendors selling everything from shirts to purses. At noon 300 to 400 people were in the park.
Children played games and participated in cake walks. That's how Tahisha Wycoff, 7, won some chocolate cupcakes, which she shared with friends afterward.
A procession of bands and disc jockeys played music throughout the day.
"We have a variety of different music," said Tony Daniels, who was emceeing the events, referring to soul, rhythm and blues, hip hop and reggae tunes.
Daniels also was the emcee for the three-on-three basketball games Friday. More than a dozen teams started in the tournament and several others were created at the last minute, he said.
Correction
One person was misidentified in a photo caption that was published in Sunday's Journal-World with the Juneteenth Family Fun Festival story. The girl second from left in the picture was Tahisa Wycoff.
"We started with a lot of 6-year-olds, and they put on an awesome display of athleticism and sportsmanship," Daniels said.
Donna Bell, co-chairwoman of the celebration with Janine Colter, was pleased with the weeklong celebration.
"It has gone really well," she said. She also noted that those attending the family fun festival included people of various races, something Juneteenth organizers strived for.
Plans are already under way for next year, Daniels said.
"We're hoping to add more activities for the kids," Daniels said, referring to the fun festival. "We're hoping for more of a carnival atmosphere."
Copyright 2018 The Lawrence Journal-World. All rights reserved. This material may not be published, broadcast, rewritten or redistributed. We strive to uphold our values for every story published.