Considering the Lawrence Outlaws opponent Tuesday night receives its training from a pair of former major leaguers, it's probably not too surprising the Mac-N-Seitz 16-year-old Indians put their talent on display in a doubleheader sweep at Free State High.
"They're just a really good team," said Outlaws coach Brad Romme, whose squad lost, 8-3 and 10-0 in a run-rule-shortened nightcap. "They play the game well, they play the game hard. That's what you're supposed to do.
"Those guys are definitely not a lollipop team on our schedule, but we absolutely believe that going up against a team like that will only make us better."
Not only did Indians crank out 24 hits in 11 innings, but also the high-caliber team is undefeated in 15 games this summer.
"It's pretty much the cream of the crop of kids in the Kansas City area, but they're all good kids," said Indians coach Mike Lusardi, who has been a Kansas City Royals chaplain for 18 years.
"That first game tonight was one of our more competitive contests, and the second game got away from them a little. We know we're not going to stay undefeated all year, and it was nice to get a test from a quality team."
Despite being winless the Outlaws (0-6) concur with the Mac-N-Seitz coach, who primarily has coached these same kids at the baseball academy founded by former Royals Mike Macfarlane and Kevin Seitzer.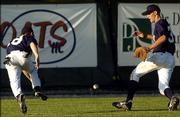 "They're definitely good, but we hung with them for the most part in the first game," said Free State senior-to-be John Sneegas, who threw six solid innings before being replaced with the Outlaws behind 5-3.
"Playing against such high-level competition definitely won't hurt us in this the early part of the season. If anything it should help us prepare for the end of the year."
The Indians plodded out three more runs to seal the first contest before putting a whopping 10 runs on the board in the first two innings of the second game.
"I'm not trying to make any excuses, but right now we're definitely behind with our numbers and because of the rainouts. Right now we're trying to identify our best roster and hopefully put that in place for Thursday," said Romme, of his team's dates against Shawnee Mission East at 10 a.m. and a 12:30 p.m. game against Lansing in the Lawrence Amateur Baseball Assn. tournament at FSHS.
Copyright 2018 The Lawrence Journal-World. All rights reserved. This material may not be published, broadcast, rewritten or redistributed. We strive to uphold our values for every story published.