The Thunder's game against the Soft Rockers on June 7 featured daring baserunning, moments of defensive brilliance and even a battle between two sisters.
In the end, though, it was the Soft Rockers who came out on top.
The team scored the league maximum of five runs in both the first and third innings while winning the 10-U game in the Lawrence Girls Fast Pitch Association, 12-4, June 7 at the Lawrence High ball field.
"We've taken the drills and the concepts from practice and now applied them on the field," Soft Rockers coach Chris Eagle said. "They're having fun out there."
The Thunder struck first, with Kaitlin Dunbar and Madeline Dieker leading the charge, reaching base and scoring runs in the first inning for a 2-0 lead.
The bottom half of the inning saw a furious rally by the Soft Rockers.
Jackie Garcia and Jordan Raye led off the inning with singles and came around to score on hits by Megan Eagle and Jessica Ferguson.
Regan Keasling and Jackie Long also drove in runs as the team reached the five-run-per-inning league limit.
Despite hits by McKenzie Kula and Leah Coons, the Thunder were unable to get on the board in the second inning.
Jazzy Stewart doubled and scored a run for the Rockers in the the bottom of the frame. After Raye and Hannah Wetherbee doubled, it appeared that the Rockers would take an insurmountable lead.
However, the Thunder held their ground with some solid defense.
Dieker made a great play on a ball off the bat of Megan Eagle to keep the score 7-2 going into the third and final inning.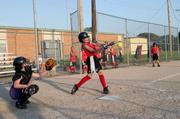 The Rockers came up with some defensive gems of their own in the top of the third.
Pitcher Raye made an nice catch on Dieker's soaring fly ball, and, two batters later, second baseman Jessica Ferguson made a fine stop on a ground ball.
The Thunder did add two runs in the inning on hits by Dunbar and Remington Samuels.
In the bottom half of the third and final inning, the Soft Rockers again reached the five-run limit for the final 12-4 score.
"I'm proud of all these girls," Soft Rockers coach Barent Raye said. "This is a fun league and all the coaches are doing a wonderful job."
Thunder coach Brett Morris was equally positive in his assessment.
"I thought it was a lot of fun," Morris said. "I thought both teams really showed good sportsmanship, played hard and had fun."
Copyright 2018 The Lawrence Journal-World. All rights reserved. This material may not be published, broadcast, rewritten or redistributed. We strive to uphold our values for every story published.