During his 14-week trial for child molestation, Michael Jackson began many mornings with a call to the Rev. Jesse Jackson.
First, they would pray. Then the singer often would talk of his future. Should the jury find him not guilty, he told the civil rights activist, there was much he wanted to do.
"Michael wants to continue to produce music and write," said the Rev. Jackson, adding that the 46-year-old entertainer has other dreams, too. He wants to build a theme park in Africa "where children from all over the world can come to play and learn."
Monday's across-the-board acquittals are no guarantee, however, that the self-proclaimed King of Pop, whose career has been faltering for years, will ever become a chart-topping artist again. The jury's verdicts, moreover, cannot erase the more than $270 million in debt that he's carrying, most of which comes due in December.
"Michael Jackson's career is beyond rehabilitation," said Northeastern University professor Murray Forman, who studies popular music. "Pop albums are bought by parents for their kids, and no parent will feel comfortable with a tainted figure like Jackson."
Other stars have achieved commercial success after confronting criminal charges. The R&B; singer R. Kelly, for instance, released some of his best-selling albums after his arrest in 2002 on felony child pornography charges stemming from a videotape that allegedly showed him engaged in sex acts with a female minor.
Advisers hope Monday's verdicts will pave the way for Jackson to get a similarly fresh start.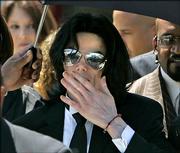 "Trials are about proving that the past shouldn't matter anymore," said Debra Opri, an attorney for Michael Jackson's parents. "For years, rumors have chased him, and they've all been swept away."
But in some ways, the trial may have made rehabilitating Jackson's public image even harder. Already tarnished by past allegations of child molestation, Jackson was portrayed yet again as an oddity - a grown man who spends much of his life sequestered in an estate modeled on an amusement park where young boys and their families are frequent sleep-over guests.
"Michael Jackson may be declared not guilty, but that's not the same as innocent," said Gary Bongiovanni, editor of the concert trade magazine Pollstar. "When a singer gets busted for drugs or having sex with a minor, it's different than accusations of child molestation. A sizable portion of the population will always think Jackson is guilty and never forgive him."
Creative spark needed
If Jackson could tap back into the creative brilliance that produced hits like "Billie Jean," he might have an easier time diverting attention from his personal life.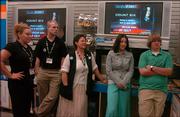 "What saved Robert Kelly was that he buckled down and made great music," said attorney Gerald Margolis, referring to his client, R. Kelly. Since his arrest, Kelly has released two albums that sold a combined 3.6 million. "Michael Jackson has to make the best music of his career."
Barring that, there could be a market for a tell-all autobiography. But publishers say they think it is unlikely Jackson would produce a sufficiently candid account of his life.
"If Michael Jackson was to write honestly about his childhood or his relationship with his father or discuss his ambiguous sexuality, the public would want to read that," said Josh Behar, a senior editor at Harper Entertainment, publisher of biographies of Tatum O'Neil and the band U2.
"But he'll never deliver that. Instead, he'll demand millions of dollars and complete control. Michael would never share himself with the public."
No time to waste
One thing is clear: Jackson needs to find some way to make millions of dollars in a hurry. The Rev. Jackson said that in their frequent phone calls, the star acknowledged that he was strapped for cash. During the past year the singer was sued at least four times for allegedly failing to pay $3.3 million in overdue bills.
During the molestation trial, accountant John Duross O'Bryan testified that financial documents suggest Jackson spent up to $30 million more per year than he earned. Among his expenses are upkeep on his 2,800-acre Neverland Ranch and an enormous staff of security personnel, personal assistants, and animal handlers.
Now, in addition to the $200 million he owes Fortress Investment Group LLC by the end of the year, he will have legal bills that some have estimated will top $10 million.
Jackson is not without assets. His 50 percent stake in Sony/ATV Music Publishing, which owns 251 Beatles tunes and other songs, as well as a valuable catalog of his own work and the Neverland ranch, are worth more than $500 million, some say.
But music executives familiar with Jackson's contracts say that the complexity of his finances make it difficult for him to sell anything quickly.
Were he to sell his half-ownership in Sony/ATV, for instance, those executives say the transaction could take months to complete and might net Jackson less than anticipated.
Such a sale could result in a tax bill of $40 million, according to trial testimony.
Jackson's financial troubles have worsened as his popularity has declined. Jackson's 1982 album, "Thriller," is the second best-seller in U.S. history, shipping 26 million copies since its release, according to the Recording Industry Association of America.
But Jackson's last album of new material, 2001's "Invincible," sold only 2.1 million copies according to Nielsen SoundScan - far below the sales achieved by his previous releases. Since 2003, domestic sales of Jackson's albums have declined to about 1 million per year.
Today, even Jackson's most popular singles are played so infrequently on the radio that each earns him less than $24,000 a year in royalties, according to estimates by the American Society of Composers, Authors and Publishers.
In the 1980s, by contrast, radio play of his hit song "Beat It" earned him an estimated $400,000 in a single year. Since Jackson's trial began, radio stations monitored by ASCAP have decreased play of Jackson songs by as much as 10 percent.
Copyright 2018 The Lawrence Journal-World. All rights reserved. This material may not be published, broadcast, rewritten or redistributed. We strive to uphold our values for every story published.